Rebble is trying to keep the Pebble platform alive after Fitbit pulls the plug on June 30th
1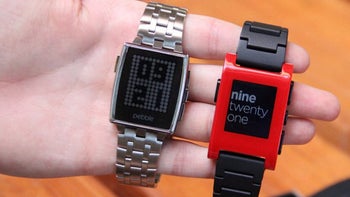 Back in December 2016,
Fitbit bought out smartwatch manufacturer Pebble
. The former Kickstarter poster boy was acquired for its patents, OS, apps and some of its personnel including software engineers. Fitbit has since come out with two smartwatch models, the Fitbit Iconic and the Fitbit Versa. Meanwhile, at the end of this month, Fitbit will be shutting down all services for Pebble watches. This means that features like email and text replies, the app store and voice recognition will no longer work. It also will make it harder for developers to build new apps for the platform.
But Pebble owners searching for a miracle might have one. Pebble founder and former CEO Eric Migicovsky sent out a tweet today aimed at all Pebble users. In his missive, Migicovsky told those still sporting a Pebble timepiece to set up an account with Rebble.io. Created by Pebble developers trying to keep the platform alive, Rebble wants Pebble users to sign up for its service now, before Fitbit permanently unplugs Pebble's servers. At the same time, the number of Pebble owners signing up for Rebble before the end of the month will give the fledgling company a head count it can use to estimate the number of users it will have.
Developers also need to sign up now with Rebble; once the servers go dark at the end of this month, developers who didn't sign up will lose the ability to be verified. No verification means no chance for these code jocks to update or change their apps.
Rebble's blog says that it won't have everything prepared in time for the June 30th deadline. Still, apps will still be installed, notifications will be received, and Pebble Health will still function. Outside of those that create timeline pins, apps and watchfaces will also work. Even after Pebble services close, Rebble will work on getting the remaining features up and running.
"...a lot of Pebble functionality will keep working regardless of what we manage to put together. Your apps will still be installed, your notifications will still come through, and Pebble Health will still be entirely functional. Pebble apps and watchfaces will still work fine, too, except for those that create timeline pins."-Katharine Berry, Rebble
Back in February, Rebble said that it hopes to have the following functionality restored:
Apps and firmware-users will have to switch to new Rebble Web Services manually.

Accounts-users will have to create a new Rebble account, but much of your Pebble account data will be preserved.

Appstore-Rebble users will automatically get the Rebble Store as a replacement.

Timeline-most apps will continue to have functioning Timeline pins, but some apps will need updates from the developers.

Weather and Dictation-built-in weather and dictation functions will become inexpensive, but paid, features.

iOS SMS and e-mail replies/actions-SMS and e-mail replies and actions won't work on iOS.

CloudPebble-CloudPebble will be transitioning to Rebble Web Services, and will have the option to import your old CloudPebble projects – if you migrate them before the old Pebble servers shut down.
To sign up with Rebble, simply click on this link.