Now that both are out, which would you buy: LG G6 or Samsung Galaxy S8 / S8+?
58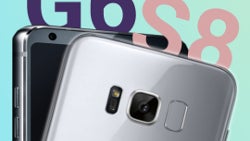 The Galaxy S8 is about to hit store shelves and land in the hands of customers who pre-ordered it in a couple of days. Now might be the time you are wondering "Well, which one should I go for?". And now begins the infinite cycle of review-reading, camera sample comparisons, checking out various battery tests, benchmarks, and — for the patient ones — a couple of months' wait to make sure that none of the two devices have a plethora of defects. Yeah, we know how it goes — when planning to buy such an expensive gadget, one is careful with their money, and rightly so.
But there's also the possibility that, in your heart of hearts, you've already made a decision. Either due to brand loyalty, or not being able to take your eyes off of a specific device because its design is stunning, or just due to its hardware specs. So, we thought we'd ask you — now that both the
LG G6
and the
Galaxy S8
/
S8+
are for sale, which one do you want to throw your money at?