Nokia's NYC flagship store pulls the 5800 XpressMusic?
0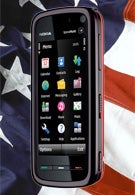 Let's see if we can follow what has happened with the Nokia 5800 XpressMusic over the last few days. First, we
report
that the handset has reached the flagship stores, all ready to find new homes. Then, we
wrote
about a problem with the inventory system that prevented the phone from getting rung up at the register. Ok, that was apparently corrected and the device was made
available
for purchase. But there was no happy ending as unofficial information says that the handset had problems with 3G connectivity. Some people traveling to the NYC flagship store have been turned away after being told that the unit is not for sale at the moment because of the reported issues. Nokia reps at the store are taking names and numbers to call back once the problems with the phone have been resolved. All in all, it appears that the 5800 XpressMusic has been up for sale for a total of only 7 hours at the Big Apple store. Not much money can be made at that pace. As far as online sales are concerned, the web page shows that the model is on backorder, a perfect stalling technique to use while the Finnish manufacturer figures out the problem.
Nokia 5800 Xpressmusic Specifications
|
Review
source:
The Nokia Blog