Nokia E6 continues Nokia's business E series in style
4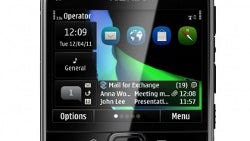 Nokia promised to let us know what'snew in the Symbian world and it did. More of the good old portraitQWERTY E-series in a single compact package with amazing batteryperformance and refined design: ladies and gents, that's the NokiaE6. The handset comes with VGA resolution – no ground-breakingfeature by itself, but paired with the 2.46-inch screen of the E6makes for a pixel density of 326ppi, which is nothing short of great.If you're into small screens that is.
The sleek new addition to the E seriesalso features an LCD capacitive touchscreen, made of GorillaGlass to protect it from scratches. The E6 is definitely not thelightest out there as it tips the scales at 4.69 ounces (133 grams) ofweight, but it is relatively thin measuring 0.41 inches (10.5mm) in girth. The Nokia E6 comes with an 8-megapixel fixed-focus snapper with dual-LED flash on the back and while we appreciate its HD recording capabilities (720p at 25fps) we wished it was an auto-focus unit. Nevertheless, the 2X digital zoom for stills and 3X for video capture are a welcome addition.


The1500mAh battery promises up to a month in stand-by time and some 14hours of talk time. In terms of connectivity, you have pentaband2G/3G support for a truly global device. Wi-Fi b/g/n as well asBluetooth 3.0 are also on board. Location services is also well covered with free global walk and drive navigation.

But most excitingly – it features thelatest iteration of Symbian with improved browsing performance and fresh looks. Therelease date is in Q2 2011 and the price tag stands at nearly $490 (340euro). There is no information about U.S. carrier availability, buthopefully it will be subsidized by some as its expected to hit NorthAmerican markets in Q3. Don't forget to check out the video below andshare your expectations about the E6!
source: Nokia