Nokia's upcoming Android Oreo Go device, the Nokia 1, leaks out
6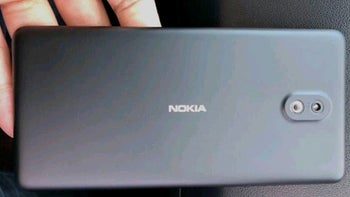 Nokia is expected to launch a whole lot of new devices this year, namely the
Nokia 4, Nokia 7 Plus, and finally, the Nokia 1
, which is an entry-level model that's expected to be the first
Android Oreo Go Edition
device of Nokia.
A real-life picture of that device seemingly just popped on the vast Chinese internet space, giving us an early look at the rear shell of the device. Quite possibly made of plastic, this one is closely styled after other mid-range Nokia devices, bundling the camera and flash cutout together in a protruding oval module that simply screams "Nokia". Of course, there's no telling if this one is real or not, but it looks like it could be the real deal.
As far as specs for that one go, we heard that the Nokia 1 will likely feature a lowly 720 by 1280-pixel IPS LCD display, 1GB of RAM, as well as 8GB of storage. We are unsure what processors will make it tick, but we are betting either a Snapdragon 400-series or a corresponding MediaTek chip would be clicking inside the Nokia 1.
There's no telling when this one would likely be announced, but MWC 2018 sounds fair game.