Mr. Blurrycam turns his lens towards Google Maps for iOS
17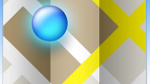 A San Francisco developer named Ben Guild says he has taken some pictures (albeit blurry) of Google's new mapping app for iOS. He also has some information pertaining to the native iOS app. No one would be making a big deal about this if it weren't for
the problems that Apple Maps has been experiencing
. Right now, those wanting to use Google Maps on their Apple iPhone running iOS 6 must use the
mobile web version
on the iPhone's safari browser.
Mr. Guild has no connection to Google as far as we can tell, but claims to know that the new Google Maps for iOS will be vector based, offer two-finger rotation to any angle, supports the new 4 inch screen on the Apple iPhone 5 (no black stripes on top and bottom) and is supposed to be extremely fast. It also is said to
incorporate Google Earth
. This promises to make the native iOS version of Google Maps a real challenger for Apple Maps as soon as Apple gets rid of all of the problems afflicting its app.
While there is some talk that Apple
knew in advance how poorly Apple Maps was going to perform,
a triumphant return of Google Maps to iOS was not what the Cupertino firm had in mind when it decided to replace Google Maps with its own application in iOS 6. And by the way, Google Maps is already in Alpha according to Guild. The New York Times recently quoted a Google insider as saying that the app won't be ready until the end of the year because it was caught off-guard when
Apple decided to stop using Google Maps as the native mapping application on iOS 6
even though there was still one year left on the contract between the two tech giants.
source:
BenGuild
via
Forbes