Motorola web site for DROID X2 support goes live, includes link to User Guide
6
As we
reported
, the Motorola X2 is expected to be available as soon as May 19th for Direct Fulfillment orders and should be in the stores on May 26th. And as we get close to the release of the phone, Motorola has put up a
Product Support
page for the handset. And on the web site is a link to the Motorola DROID X2's
User Guide
which confirms the 1GHz dual-core processor on the handset as well as the 4.3 inch qHD display.
While the Motorola DROID X2 will not support 4G, it will be the first Verizon handset to offer a dual-core processor. Combined with the popularity and flagship status of the original DROID X, we would expect to see some pretty good demand for the phone when launched. Will you Verizon customers be picking up the Motorola DROID X2 on launch day, or will you be holding out for the DROID Bionic, or maybe even the Verizon Function? The latter, as we
reported
earlier Monday, appears to be the name for Big Red's version of the Samsung Galaxy S II.
Thanks, Big Eaze22!
source:
Motorola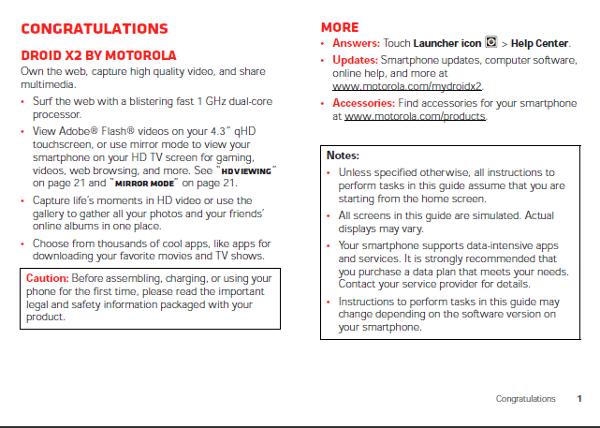 A link to the User Guide of the Motorola DROID X2 can be found on Motorola's support page for the phone