DROID X2 Review
25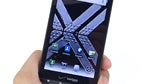 Introduction:
Ingrained deeply into our memories even until now, the
Motorola DROID X
has managed to be one of the more memorable handsets in the last year due to its strong presence within the Android community. Needless to say that every nook and cranny of the handset exudes that larger than life status, but considering that things have changed dramatically in the last couple of months, it's obviously in dire need to get its yearly refreshed successor. Right on cue, we now find its successor in the
Motorola DROID X2 MB870
, which is ready to hopefully stem the onslaught of competition and keep itself as a vigilant figure on Verizon's lineup.
Granted that it's not all that uncommon to find manufacturers recycling handset designs with successive devices, which is telling with the Apple
iPhone 3G
and
3GS
, we do find some upgraded hardware under the hood with the DROID X2 that should differentiate itself from the pack. Priced at $199.99 with a 2-year contract, its pricing is indeed fitting for a high-end non 4G LTE smartphone, but does it still have the allure that embodied the original? Or will it simply be left behind the dust in favor of Verizon's 4G LTE equipped smartphones?
The package contains:
Motorola DROID X2
8GB microSD card preloaded
microUSB cable
Wall Charger
Quick Start Guide
Design:
At first glance, one can easily be fooled that they're grasping the original Motorola DROID X since the DROID X2 is almost an exact facsimile to its predecessor – though, it completely omits the dedicated shutter key this time around. Besides that one distinguishable removal, everything else is intact with the handset's design. Although it's top heavy, due primarily to the hump that houses the handset's camera sensor, it's still fairly streamlined (0.39" thick) and pocketable. Indeed it's one large handset, especially if you have smaller hands, just because you might have some challenges trying to cover the handset's gigantic display with your thumb.
Regardless of that, it's solidly built and employs some high-quality materials with its constructions – albeit, it does make it feel somewhat heavy (5.47 oz). Specifically, its metallic exterior is completely engulfed with a soft touch matte coating that enables it to look clean at all times, while repelling dirt and debris from sticking on. As much as we love the design, we're not filled with the same impressed reactions that we experienced with the original.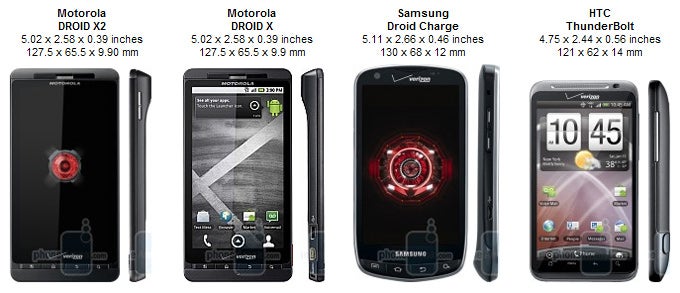 You can compare the Motorola DROID X2 with many other phones using our
Size Visualization Tool
.
Retaining the same size
4.3" capacitive touchscreen
as before, it has been upgraded to qHD (540 x 960) resolution for moderately better clarity – though, it's hardly noticeable from a far glance. Nonetheless, it offers sharp looking visuals that pack plenty of detail and higher pixel density, while producing some natural looking colors. In addition, its high-contrast look enables us to use it outdoors under direct sunlight with no visibility issues whatsoever. Lastly, its good viewings angles doesn't fade, distort, or wash out colors – thus, keeping it consistent looking at all angles.
Now that 4.3" displays aren't uncommon anymore, there isn't anything particularly polarizing about it – even with its higher resolution. In the end, it's not as much of a standout as before, but when you compare it to other things like Super AMOLED Plus or IPS displays, it lacks that wow factor.
Seeing that the design of the Motorola DROID X2 is essentially unchanged, all of the
buttons and ports
are located in their same positions throughout the handset. However, it's worth noting that the handset's miroHDMI port not only has the ability to output high-definition videos, but it also offers a mirrored experience – something that's becoming standard amongst most high-end Android smartphones.
In the
rear
, the handset's hump houses the same exact 8-megapixel auto-focus camera with dual-LED flash. Granted that we like how the metallic back cover protects the handset's innards, it's rather super easy to remove and doesn't require much force to nudge off. But honestly though, we'd prefer a tighter fit so that it doesn't feel as if it'll come off while it's placed in a pocket. Frustrating to say the least, you'll need to remove the battery in order to swap out its preloaded 8GB microSD card.
Motorola DROID X2 360-degrees View: