Deal: T-Mobile Motorola Moto Z2 Force now costs $500 (that's $250 off)
8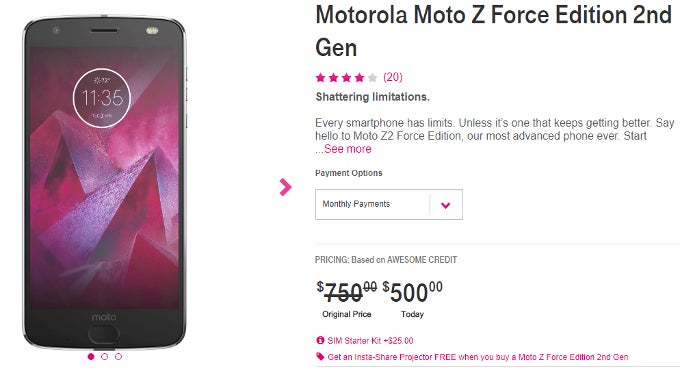 Released in August as Motorola's newest high-end smartphone,the Moto Z2 Force normally costs a bit over $700, which means that manycustomers simply can't afford it. Fortunately, the handset is already seeingprice cuts thanks to various promotions. Not long after we told you that BestBuy was offering the Moto Z2 Force for $200 off (with monthly installmentpayments on Verizon, AT&T, or Sprint), we're now glad to inform you thatT-Mobile is taking $250 off the price of its Z2 Force.
At the moment, you can buy T-Mobile's Moto Z2 Force for $500outright (instead of $750), or $20 upfront and $20 per month for 24 months. Even at this newprice, the Moto Z2 Force comes with a free Insta-Share Projector Mod (normallycosting $299.99). You can check out the offer at T-Mobile via the source linkbelow.
This price cut might be valid only for a short period oftime, so you should probably hurry if you need a Moto Z2 Force from T-Mobile.
source: T-Mobile