Moto Z2 Force Review
17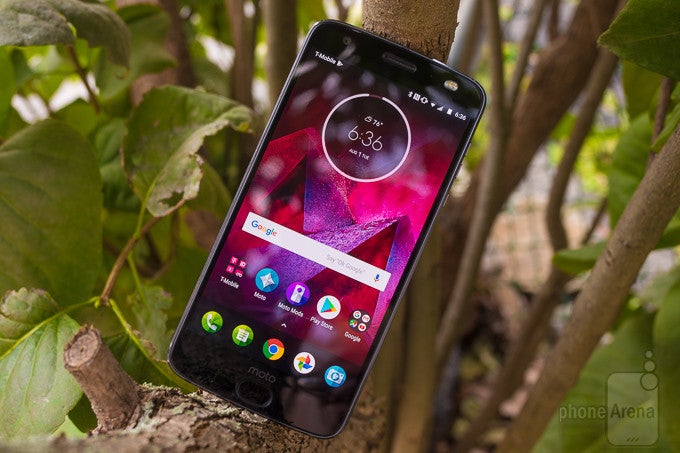 Introduction
Do smartphone shoppers like having a lot of choices? Up to a certain extent, sure, choices let us come closer to getting the phone of our dreams, and lower the risk of being stuck with some unwanted compromise. So when a company launches a device and it comes in two different sizes, we tend to look at this like a good thing; whether we want petite 5.0-inch phone or the big 5.7-inch phablet, our bases are covered.
But when we start talking about modular hardware, the benefit of having all those different models can start getting more difficult to justify. Look at last year's inaugural batch of Moto Z phones from Motorola: we had the super-thin
Moto Z
, as well as the bulkier
Moto Z Force
, and while the latter was much thicker, it also offered a significantly larger battery.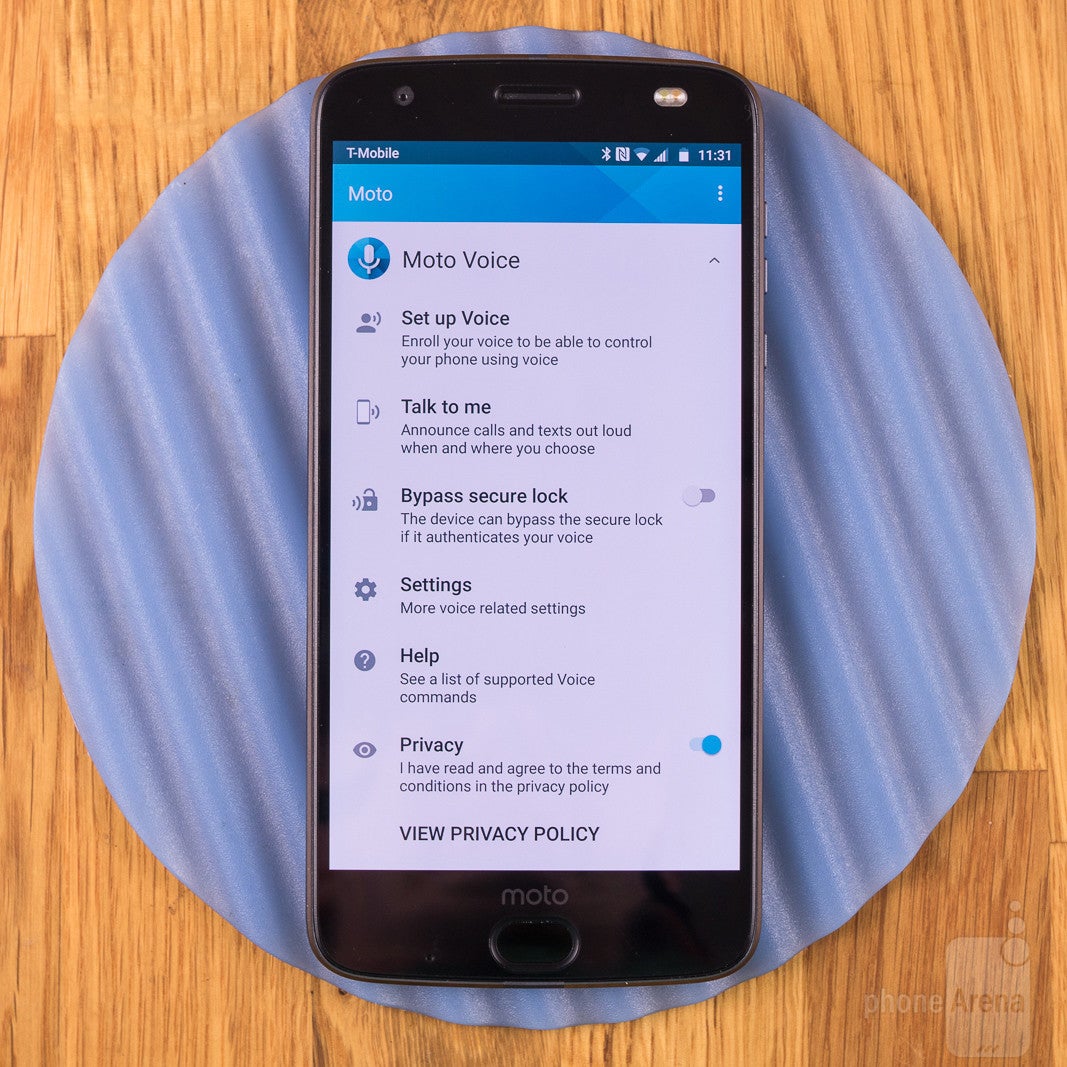 If your phone's hardware is finalized the moment it leaves the factory, having those options makes sense, but with the Moto Z family, you can always take a thinner phone and extend its battery life by connecting an external battery with the help of the versatile Moto Mods connector.
Apparently that's just what users have been doing, because this year, as we check out the second generation of Moto Z phones, there's no split between a new Z and new Z Force model. Instead, Motorola has seriously slimmed down the
Z Force
and is presenting it as the top-shelf modular phone of the season.
Will that prove to be a wise move? Is the new Z2 Force the best of both worlds, or a middle-of-the-road option that might have benefited from not trying to please everyone at once? We're looking into that right now, as we review the
Moto Z2 Force
.
In the box:
Moto Z2 Force
Turbo Power adapter
USB Type-C to standard-A cable
USB headphone adapter
Welcome guide
Warranty booklet
Safety card
SIM tool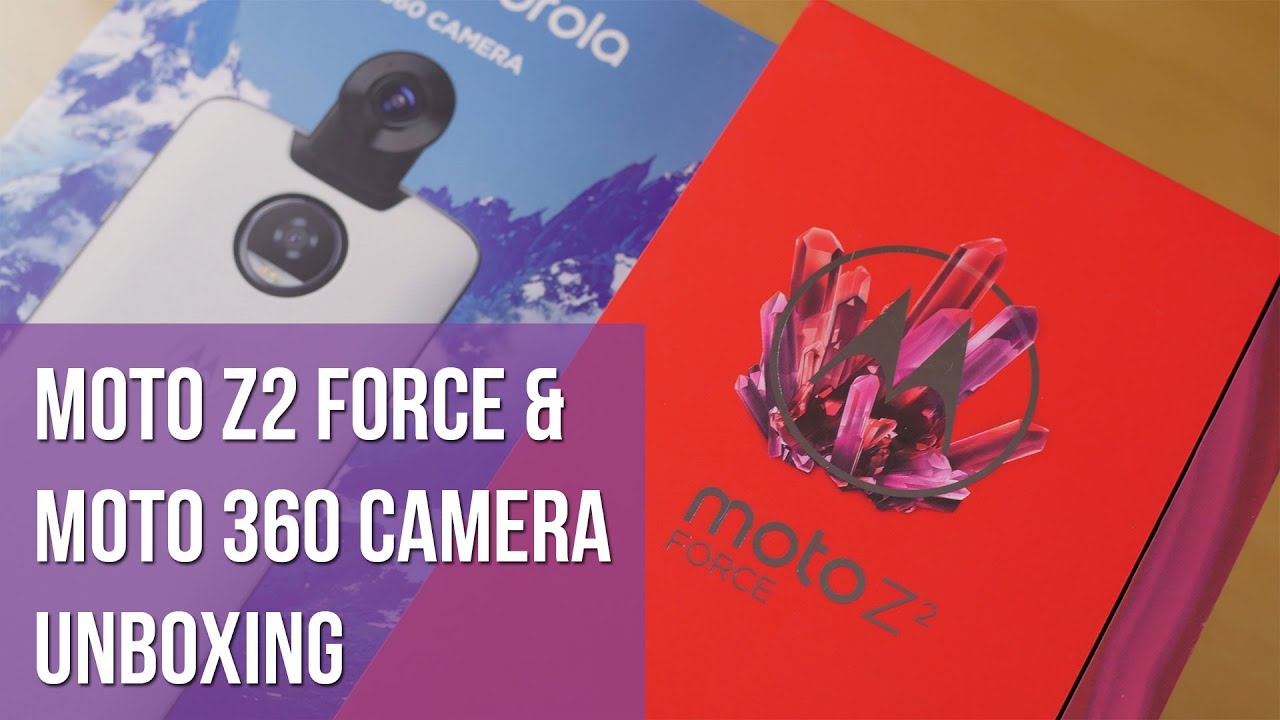 Design
Moto Mods may make for powerful accessories, but not exactly inspired handset designs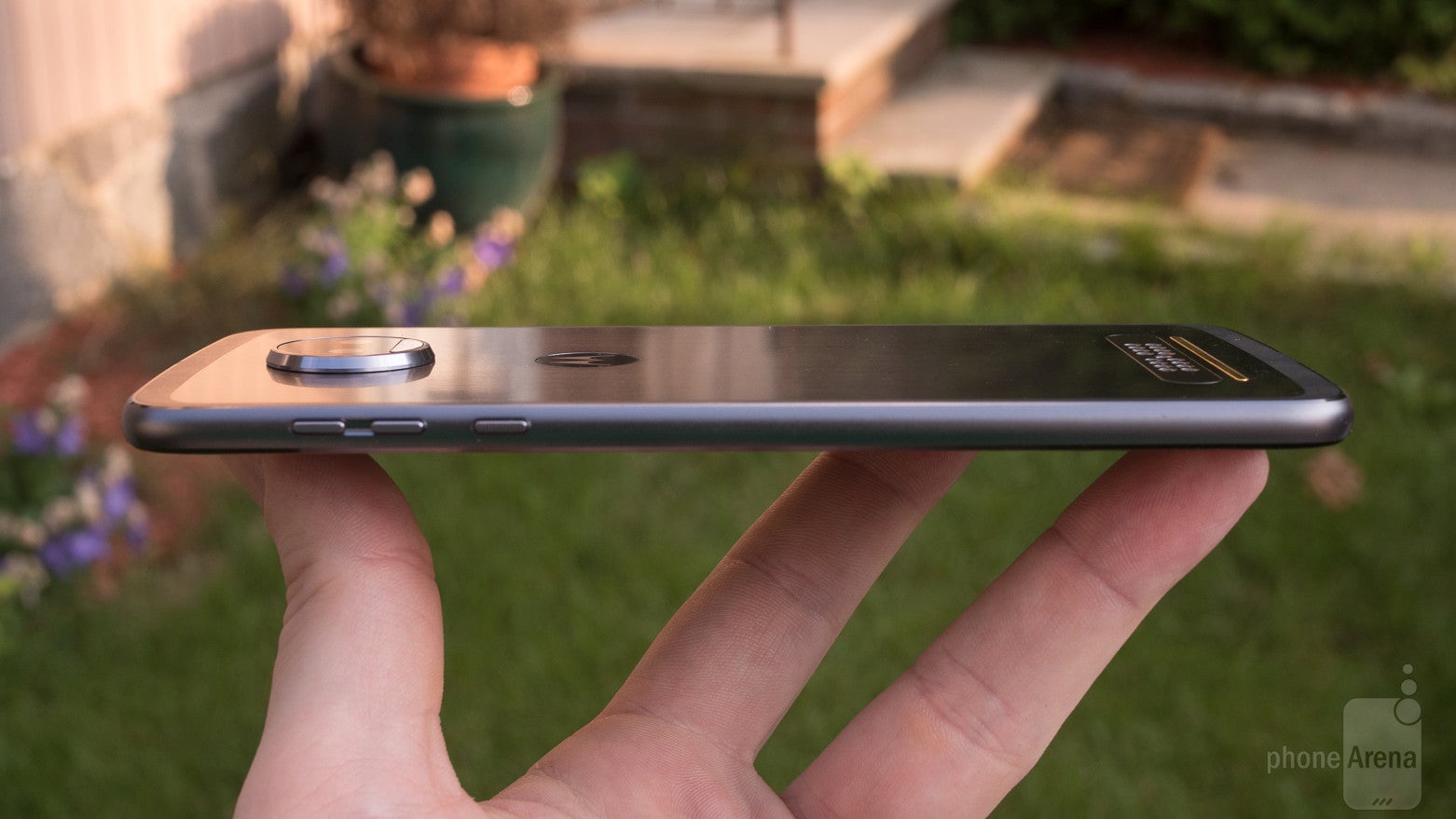 A new Moto Z phone is going to look a lot like the models that have come before it – there's little getting around that. Support for Moto Mods means buying into a design with some specific size and shape requirements, and if compatibility between this growing number of phones and hardware modules is to be maintained, we're not going to see new handsets stray very far off the reservation.
As such, the Moto Z2 Force comes through with a design that's very similar to both last year's Moto Z models, as well as the recently released
Moto Z2 Play
. The resemblance is strongest with that new model, as both feature the same elongated fingerprint scanner under their 5.5-inch screens, now serving double-duty as a space for gesture-based interface control. But there are still differences between all these phones, and the one that everyone's going to be talking about with the Moto Z2 Force is its thickness.
As you may recall, last year the original Moto Z was super-thin, measuring a scant 5.19mm thick. The first Z Force, meanwhile, clocked in a hair under 7mm. This year, Motorola seems most comfortable splitting the distance in the middle there. The Moto Z2 Play came in right between the two, at essentially 6mm, and now the Z2 Force lands in roughly the same spot, at 6.1mm thick.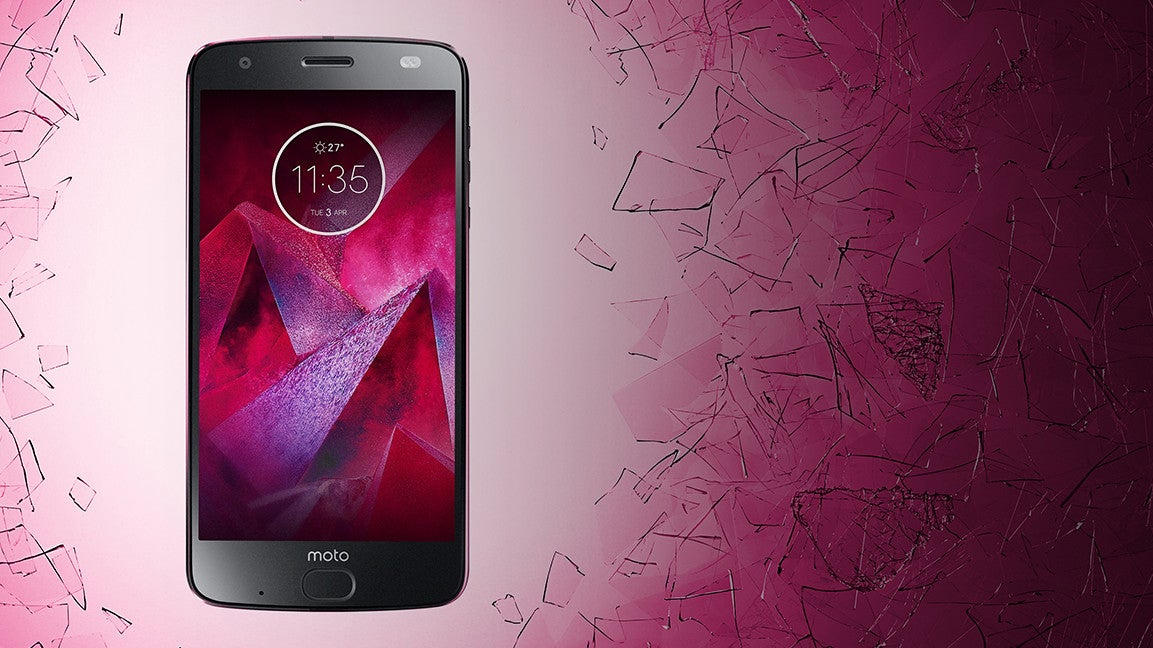 On one hand, that newfound consistency's nice, letting us choose between the Z2 Play and Z2 Force based more on their price and features than their design. But it's simultaneously quite frustrating, especially as we look at what the Z2 Play gets that the by-all-accounts-should-be-better-equipped Z2 Force lacks. Maddeningly, the thicker Z2 Force omits an analog headphone jack, while there's somehow still room for the port on the thinner Z2 Play. And the thinner phone also manages to fit in a 10% higher-capacity battery than the Z2 Force. We'll talk more about the impact those decisions have a little later, but from a pure design standpoint, they don't seem to make a ton of sense.
Those controversies aside, the move to slim down this year's Force model lets the Moto Z2 Force shed some pounds – or grams, rather – with a mass of 143g, a solid 20g less than the first-gen model. As a result, the Z2 Force feels feather-light, and while we often like our phones to have a little bit of heft to them – at least enough to make them feel substantial and well-made – this is a phone we'll be attaching hardware add-ons to, so it makes sense to want to start as low as possible.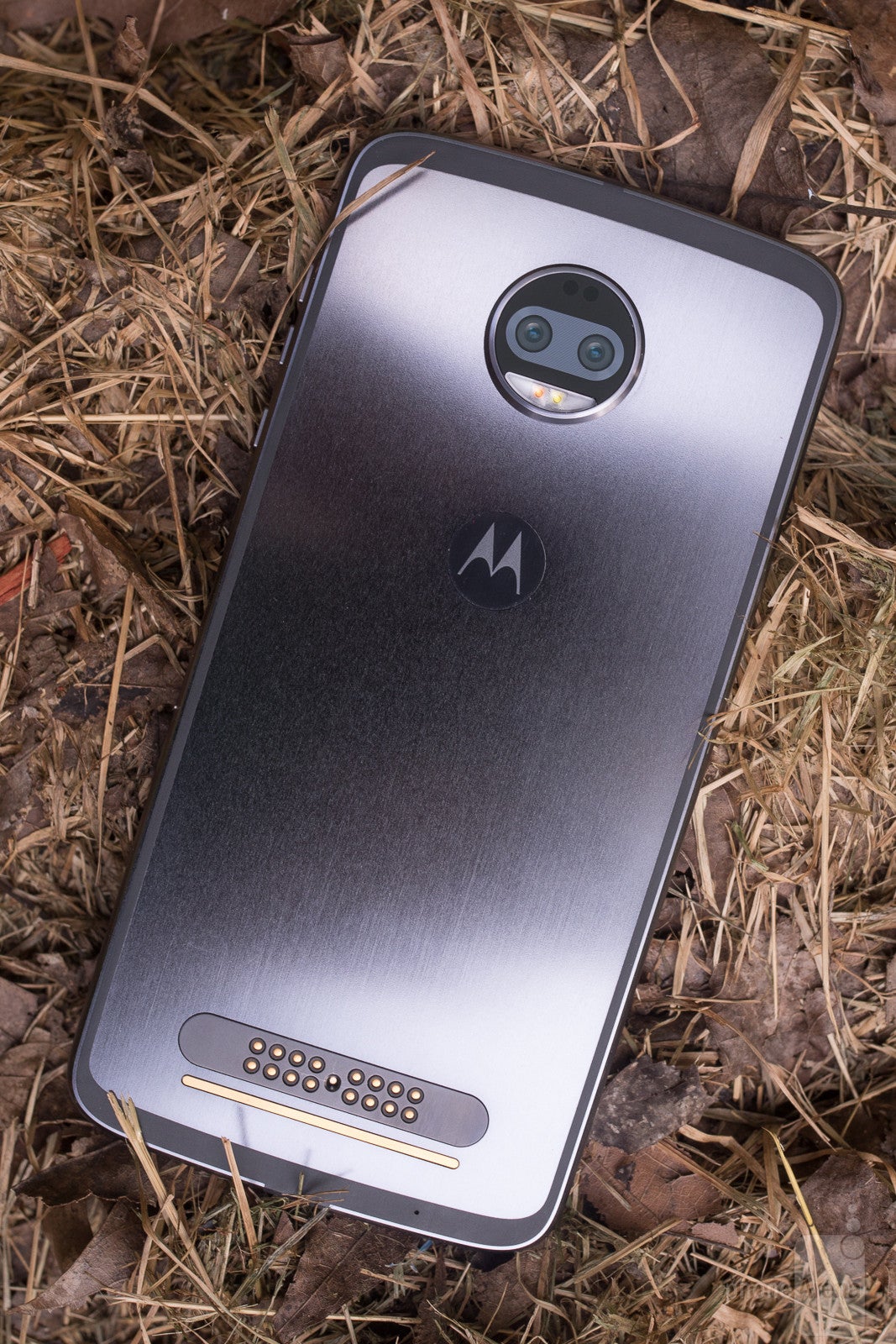 Another design departure from last year concerns the phone's edges, which are now smoothly rounded with a sublte curve front-to-back. With the first-gen model, there was a distinct "peak" in the middle of those edges, giving the phone a bit of grip-point. While the new Moto Z2 Force lacks this feature, the phone's nonetheless still quite comfortable to hold, and we never felt like we were about to drop the handset.
Around back we've got the Moto Mods interface in its expected position, and up top there's the rear camera bump. While its placement is also par for the course when it comes to Moto Z phones, this handset can't help but show off one of its key new features: a dual-rear-camera system. The phone's built with an aluminum unibody, and the back shows off an attractive brushed-aluminum look, but there's something a little off about how it all comes together, as that back panel feels perfectly smooth, rather than the texture we expect from that sort of finish. Perhaps it's laminated somehow, but the Z2 Force is still very much a metal-bodied handset.
Once again, Motorola goes with a nano-coating on the phone's internal circuits to resist water damage instead of sealing the handset tightly to keep water out in the first place. As a result, it's not rated for anything like the kind of immersion-protection we see from phones like the Galaxy S8 or LG G6, but the hardware should still survive a brief dip – though emphasis on brief.
On its own, there's nothing overly objectionable about the Moto Z2 Force's design – well, maybe that missing headphone jack. But we also can't help but view it in the context of last year's Moto Z phones, and already this model is feeling less inspired than either of 2016's flagships.
Display
Hits mix with misses as Motorola trades one evil for another
As a Moto Z-series phone, the Moto Z2 Force picks up a 5.5-inch display, and being the flagship model it is, the Quad-HD 1440 x 2560 resolution feels very appropriate. But this display's big selling point isn't its size nor pixel density: it's the shatterproof design.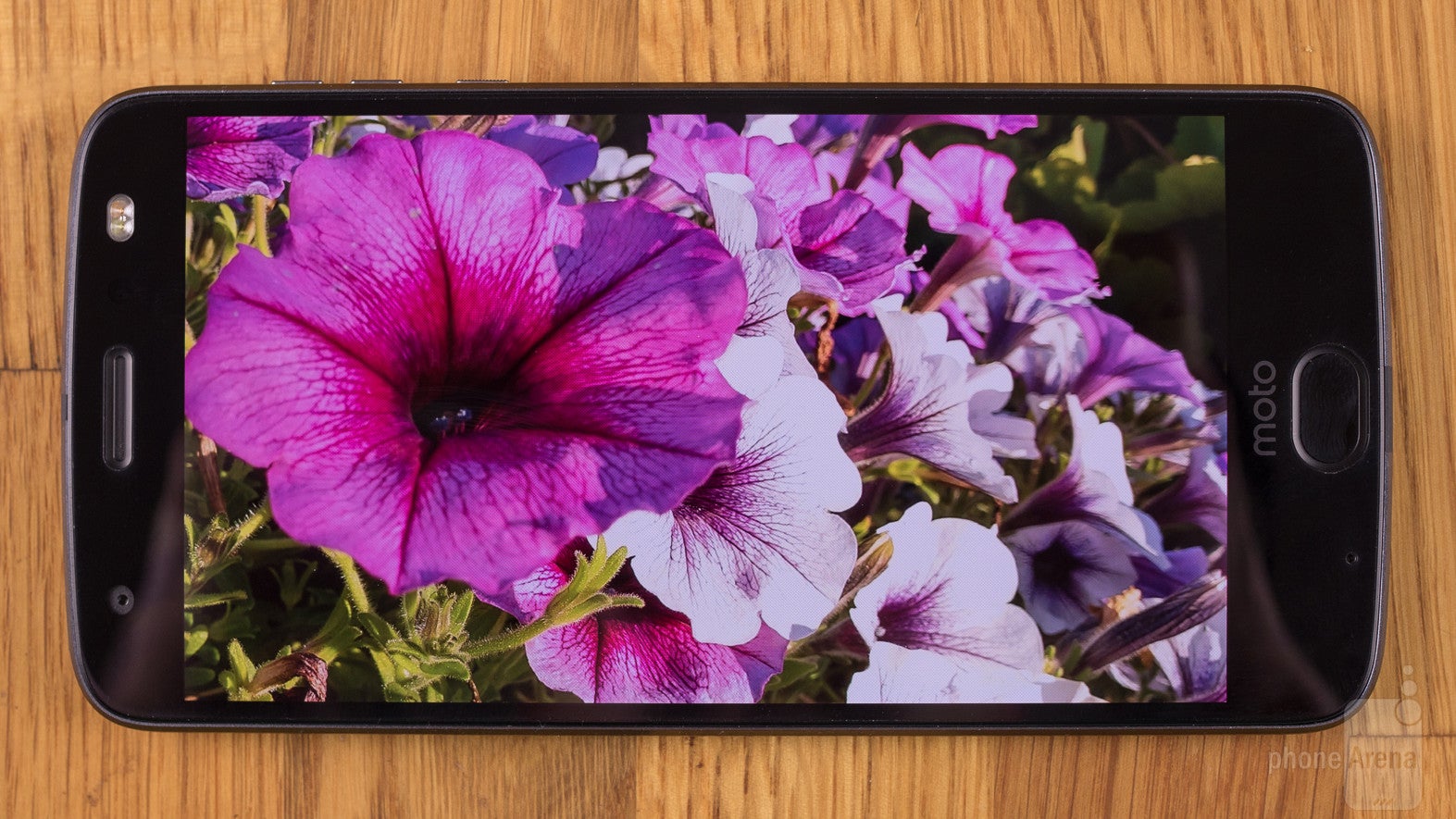 Much like on the original Moto Z Force, the Z2 makes heavy use of plastic in the implementation of its OLED display, resulting in a panel that's simply not going to crack when you drop the phone. While that sounds like a huge benefit for the Z2 Force over competing handsets, it's also a decision that threatens to bite the smartphone in the keister. Let's come back to that in just a moment.
Looking at the performance of the screen itself, Motorola is in solid territory here. The picture's crisp, and colors are bold – at least with the phone's color mode set to "vibrant." That's the default, and for good reason, because things get positively drab-looking the moment you switch it off.
Color accuracy is alright, at least keeping in mind that this is an AMOLED panel, where off-the-charts saturation is to be expected. And while that's still the case here, with some very intense hues, nothing's so out-of-whack as to have us wishing we were viewing content on another phone.
Brightness is a bit of touchy subject for the Moto Z2 Force. While the phone is capably of some decently bright output, north of 500 nits at its max, you're only going to see that kind of intensity with the phone's auto-brightness engaged. That on its own isn't so noteworthy, and we'd say about half the devices we test show similar behavior, but the Z2 Force stands out because its maximum brightness when you're manually setting the brightness slider is really, really low. We saw the same sort of split with with the first-gen Moto Z and Z Force, but this is one blast from the past we could do without.
So far, we'd say the screen on the Moto Z2 Force is fine: it's not perfect, and absolutely has some quirky behavior, but so do a lot of displays, even on flagship-class devices.
But then there's this shatterproof business. As we mentioned, this so-called ShatterShield owes its functionality to the use of plastics, rather than fragile glass. And while Motorola seems to very much deliver on its promises of impact-resistance, that comes at a price – and one that may simply be too high for many users.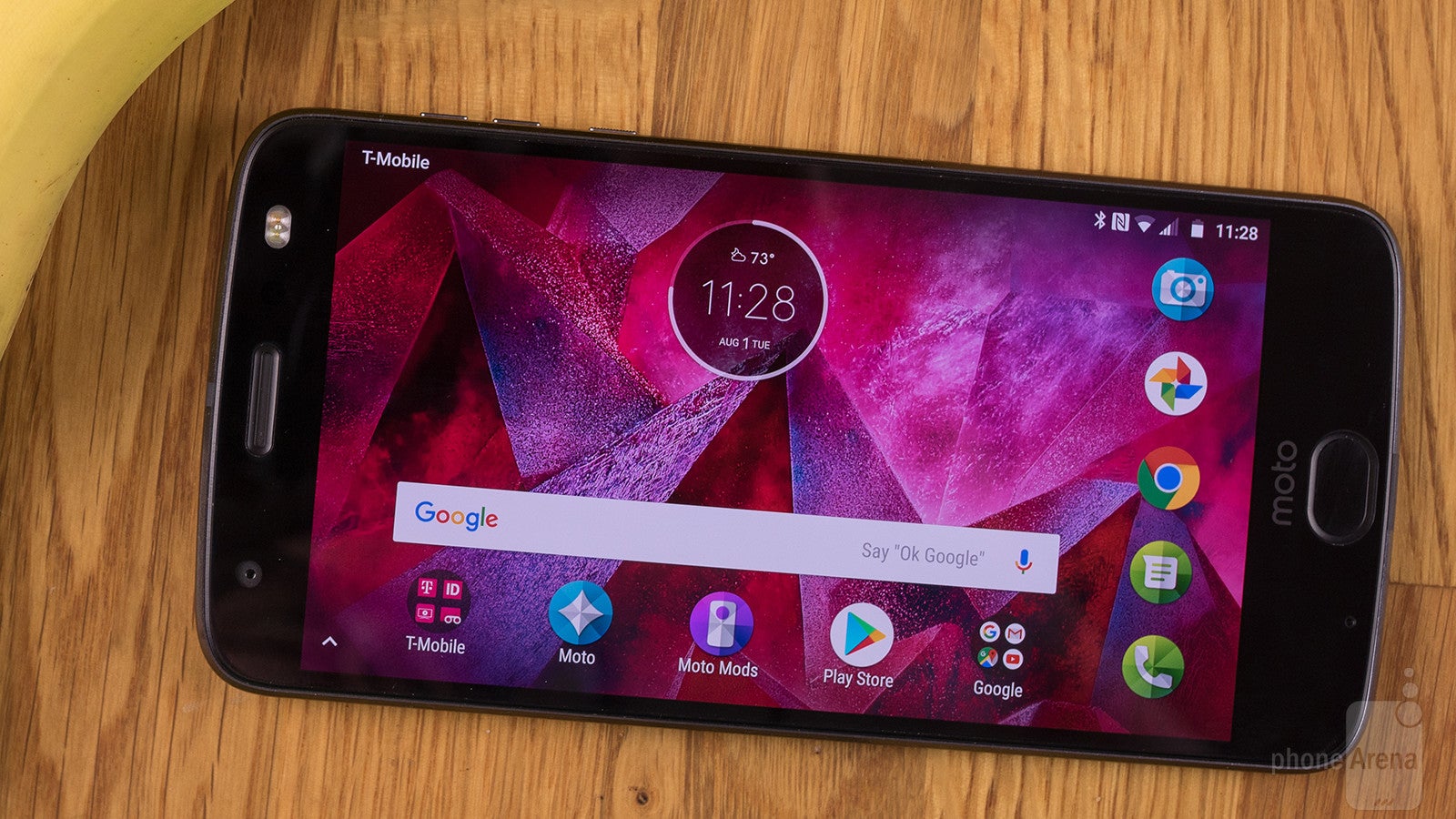 There are some very good reasons so many phones cover their screens with glass, and one of the big ones is durability. Sure, they break under enough stress – but up until that breaking point, they can also be far more resistant to incidental damage than plastic. And it doesn't take long carrying the Moto Z2 Force around before your screen starts to be covered in scratches.
Things that a glass-screened smartphone would just shake off tend to utterly destroy the Z2 Force's screen, quickly rendering it a scratched-up mess. We've been super-careful with this review unit in order to keep our photos of the handset looking pretty, but it's only through sheer force of will that we've avoided disaster; you don't have to look far to find plenty of reports of scuffed-up Z2 Force screens.
But it goes beyond just that. There's an aesthetic quality you lose with a plastic screen. Normally a phone's glass – especially when not illuminated – reflects its surroundings like a mirror. But with the Moto Z2 Force, those reflections are warped and distorted, like a 100-year-old pane of glass. Maybe more concerning, the plastic doesn't feel particularly well-applied to the phone's face, and pressing around at various points, you can hear the plastic creaking as it bends and deforms. We understand that the ability to bend rather than break is functional, but all these factors considered make the Z2 Force feel a lot less premium than its $720 price tag would otherwise suggest.
Display measurements and quality
Recommended Stories