Motorola Moto 360 images leak out, Sept 4th event to be behind closed doors, more info about Moto X+1 coming tomorrow
41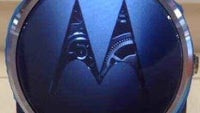 If you're wondering what's going on with
Motorola's September 4th event
when the company promised to present us to the Moto 360, Moto X+1, Moto G2, and more, well, don't expect to hear much about the devices today as Moto is having a closed door event, showing the gadgets only to the press.
Some folks, however, seem to have gotten an early look at the Moto 360 and shared the first images of the official and functioning round smartwatch with the rest of the world (check them out right below).
For all else, though, it seems that we'd have to wait until tomorrow, when Motorola Mobility will hold a Live Q&A (you can find the
link to join in right here
) answering users' questions about all of its new devices. And that's probably smart timing - after all, with all the hum and buzz of IFA 2014, the new Motorola phones could have simply gotten lost in the news.
Finally, let us once again remind you that Motorola has promised to officially announce the Moto X+1, Moto 360, Moto G second generation, and a headset.
source:
WearWizard