More bad news from RIM as the BlackBerry PlayBook OS 2.0 put on hold until February 2012
3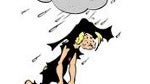 Bad news continues to come out of RIM as if a rain cloud was constantly over the company's head. This time, the bad news has to do with the
BlackBerry PlayBook tablet
. Just posted to the official Inside BlackBerry Blog is a report from RIM that while a stripped down version of the PlayBook OS 2.0 is available, it won't be ready for download until February 2012. And without trying to sound like a cliche, wait, there's more. BBM, one of the most highly thought off and used applications to make its way to a BlackBerry, will only be available on the tablet's new OS 2.0 through
the use of BlackBerry Bridge
which means that you will have to already own a BlackBerry smartphone to use BBM on the tablet.
According to Dave Smith, Senior VP on the PlayBook team, the BBM app for the tablet will await a subsequent release of a PlayBook OS build. The 2.0 build has been delayed because RIM wants to make sure that the software meets the expectations of "
developers, enterprise customers and end-users
." Meanwhile, developers are receiving the gold release of the native SDK for the BlackBerry PlayBook along with a beta of the tablet's OS 2.0. Over time, developers will
get access to the new UI and Cascades animation
that was displayed at DevCon.
We know that many of you are looking forward to BlackBerry PlayBook OS 2.0, and we wanted to provide you with an update on the progress that we're making.
As much as we'd love to have it in your hands today, we've made the difficult decision to wait to launch BlackBerry PlayBook OS 2.0 until we are confident we have fully met the expectations of our developers, enterprise customers and end-users. And here's what we're doing to accomplish that.
First off, we have decided to defer the inclusion of the BBM application to a subsequent BlackBerry PlayBook OS release. We are committed to developing a seamless BBM solution that fully delivers on the powerful, push based messaging capabilities recognized today by BlackBerry® users around the world and we're still working on it. In the meantime, BlackBerry smartphone users will be able to continue to use BlackBerry Bridge to securely access BlackBerry Messenger on the BlackBerry PlayBook tablet's high resolution display.
Secondly, we are excited to now be providing developers with the gold release of the native SDK for the BlackBerry PlayBook tablet as well as a beta of BlackBerry PlayBook OS 2.0 (launched last week at BlackBerry DevCon Americas). The developer beta allows developers to begin porting their native apps to the PlayBook platform. In the following months, the developer kit will be updated with the full Cascades animation and UI engine that was first demonstrated at BlackBerry DevCon. We expect that the developer beta will generate thousands of new applications for BlackBerry PlayBook OS 2.0.
Shortly we will also be starting a series of closed betas of BlackBerry PlayBook OS 2.0 with select enterprise customers from our Early Adopter Program (EAP). These betas will be rolled out over the course of this year and are an important next step to bringing our unmatched enterprise app deployment, device manageability, security and email integration capabilities to the tablet category. The betas will be conducted within global enterprise environments and will test the BlackBerry PlayBook tablet solution from end-to-end within corporate IT infrastructures. Feedback and improvements from these betas will benefit the overall BlackBerry PlayBook customer experience.
We believe BlackBerry PlayBook OS 2.0 will deliver a great experience for our customers, building on the powerful performance introduced with BlackBerry PlayBook tablet earlier this year. The software update will add advanced integrated email, calendar and contact apps, a new video store, as well as new functionality that will allow your BlackBerry smartphone and BlackBerry PlayBook to work together even better.
For the enterprise, we're addressing many barriers to tablet adoption, including device manageability and enterprise application deployment. Enterprises will uniquely have the ability to manage tablets from a centralized server, while BlackBerry Balance ensures a seamless user experience for personal and professional needs and gives CIOs the peace of mind that corporate data is secure. Plus BlackBerry PlayBook OS 2.0 will provide dedicated shelf space inside the BlackBerry App World storefront to make approved enterprise applications easily available to an organization's end users. Together these features will help change the way enterprises view and use tablets.
So when could an end user get the new update? We expect to deliver the new BlackBerry PlayBook OS to customers in February 2012 and we'll continue to keep you updated as we progress to the launch.
- David J. Smith, SVP, BlackBerry PlayBook, Research In Motion

source:
RIM
via
Crackberry