RIM officially announces new BBX operating system for phones and tablets
16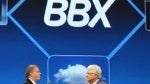 The first day of
RIM's annual DevCon
started this morning with a keynote speech from co-CEO Mike Lazaridis. As expected, the executive
announced a new operating system
which will be called BBX. According to QNX founder Dan Dodge, BBX will be for phones and tablets and the whole company is aligning itself behind this one operating system.
Because BBX uses the same source code found on BlackBerry OS 6 and OS 7, HTML5 apps that work on either of those two will work on BBX. The UI is said to be based on the
Cascades framework
developed by The Amazing Tribe. Because BlackBerry remains popular among enterprise users, a new "Work" tab has been added to BlackBerry App World.
RIM also announced a new developer beta for the BlackBerry PlayBook that takes the software to 2.0. This includes the BlackBerry Runtime for Android apps which allows developers to make their
Android apps compatible with the RIM tablet
. Either a BlackBerry-specific plug in can be added or the
developer can use the BlackBerry Packager
, which we showed you on video earlier.
The conference runs through Wednesday and we still expect to see RIM introduce
at least one of its new BBX flavored SuperPhone models
one day during the event.
source:
Thisismynext
**UPDATE**
A video of the Cascades UI has been released by RIM and it shows the animations and transitions that are now available to developers through the BlackBerry Native SDK. Cascades also offers flexible list layouts and 3D support. It is all good for those writing apps for BlackBerry devices.
source:
Crackberry