Mophie introduces the latest Juice Pack for the Samsung Galaxy S7 and Samsung Galaxy S7 edge
13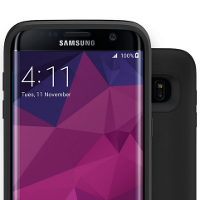 The
Samsung Galaxy S7
comes with a 3000mAh battery, and the
Samsung Galaxy S7 edge
carries a 3600mAh juicer. Combine that with the new Doze feature on Android 6.0 that puts your phone into a deep sleep state when inactive, and it would appear that users of both models would have enough battery life not to worry about it. However, for power users and those who employ features like turn-by-turn navigation and streaming video, you can never have enough battery life.
So Mophie is introducing its new battery cases for the Galaxy S7 and Galaxy S7 edge. Not only will the case protect your phone and keep your battery filled, it also allows you to charge either phone wirelessly using almost any wireless charging technology.
The Mophie Juice Pack for the Samsung Galaxy S7 is $99.95 and can be purchased now. It comes with a 2950mAh battery, increasing your battery life by more than 60%. $20.95 adds a fast charge wall charger, and $17.95 buys you a memory-flex Micro USB cable.
The Juice Pack for the Galaxy S7 edge can be pre-ordered now with shipments starting in five to seven business days. The price is $99.95 and the case features a 3300mAh battery. Here too, users are getting more than 60% extra battery life. The same accessories like the quick charge wall charger and the memory-flex Micro USB cable, are offered for the Galaxy S7 edge at the same price.
If you're the type of person who always says that you'd give your right arm for more battery life, here is your chance to double the battery life of your new Samsung handset for less than the cost of a body part. If interested, click on the appropriate sourcelink.
Mophie introduces its Juice Packs for the Samsung Galaxy S7 and Samsung Galaxy S7 edge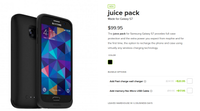 Thanks for the tip!
source: Mophie (
S7
), (
S7 edge
)