Microsoft Lumia 535 touch screen is too sensitive; upcoming software update will fix the problem
10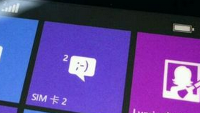 A video out of Vietnam confirms what many users of the
Microsoft Lumia 535
have been complaining about; the phone's touch screen is just too sensitive. Does that mean that the screen cried because you called it fat? No. The sensitivity that we are talking about has to do with how the screen tracks your fingers when you touch the glass.
As the video shows, multi-touch is one of the problems facing users of the Lumia 535. The problem with the touch screen on the handset, could make it hard for users to employ Word Flow. The latter is the
Swype-style swipe to type feature
available
on Windows Phone 8.1.
Microsoft says that it is aware of the problem, and is working on a software update that will fix the issue. In the meantime, some Lumia 535 users say that they have been able to improve the sensitivity of the screen by turning off the Screen Magnifier, which just so happens to be on by default. To turn this feature off, go to
Settings
>
Ease of Access.


Does your Microsoft Lumia 535 suffer from a touch screen that is too sensitive? Did disabling the Screen Magnifier help? Let us know by dropping your comments into the box below.
source:
WinPhoneViet
via
WMPoweruser