Watch "Word Flow," coming on Windows Phone 8.1, set a new record for fastest text on a touch-screen
32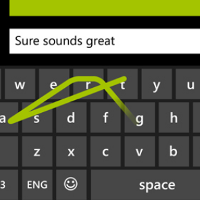 For the most part, the virtual QWERTY on Windows Phone has been hailed as one of the best features offered by Microsoft's mobile OS. Coming with the Windows Phone 8.1 update, is a new feature that just might make the QWERTY even better. It's called "Word Flow" and is similar to Swype. Using your finger, you slide from letter to letter on the screen, to spell out words.
When Microsoft designed the "Word Flow" software for the QWERTY, they did so with the intention to break various text-message speed records. And that is where the video below comes in. Back in January, Gaurav Sharma joined the Microsoft Research team and a representative from Guinness to see if "Word Flow" could take down one of the old records.
And sure enough, with a time of 18.44 seconds, the old Guinness record of 18.53 seconds went down. If you're a Windows Phone 8 user, you will soon see what the fuss is all about when "Word Flow" becomes available on your QWERTY, after the update to Windows Phone 8.1.
source:
MicrosoftResearch
via
GSMArena