Microsoft Lumia 535 Review
28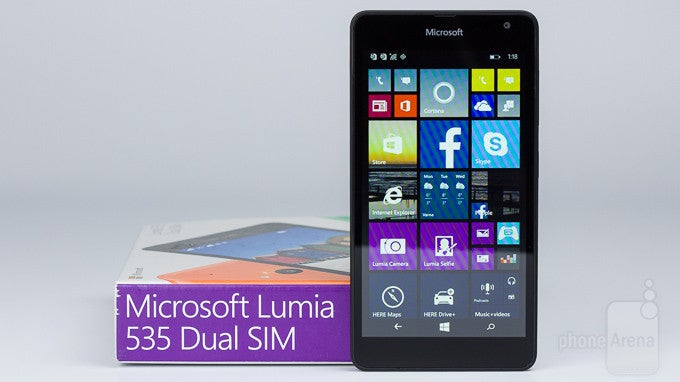 Introduction
The first Microsoft-branded Lumia – the
Lumia 535
, announced a couple of months ago, is a low-end handset, targeted at the budget-oriented folk who still look for a device that offers the connectivity options of a modern smartphone, but having corners cut in all the right places, in order to make for a viable compromise. Costing $169.99 in the US, the Lumia 535 brings all the bells and whistles of Windows Phone 8.1 – Cortana included – powered by the humble Snapdragon 200, but still paired with a good 1 GB of RAM.
So, does this handset really deliver usability, or is it just another entry-level device that frustrates users, rather than empower them? Let's check it out!
In the box:
User manual
Wall charger
Headset
Design
No-nonsense
As we said, corners had to be cut, and this is evident once one lays their eyes on the Lumia 535 for the very first time – the handset looks rather dull – a black front with a quite darkened Microsoft logo above the display and a frontal cam nested right next to it – if you try to pick up the handset in a low-light environment, you'd be hard-pressed to tell which way is up.
The back panel of the device wraps around its sides and can come in a few vivid colors, signature for the Lumias, though – our review unit is matte black, which just adds to the device's dry looks. Its plastic does not feel as cheap to the touch as one would expect, but does tend to attract a lot of fingerprint smudges. We also winced at the protruding camera – a gradual lump at the back of the 0.35" (8.8 mm) thick handset houses a 5 MP snapper, with its LED flash situated to the left of it.
As far as buttons go – we found them to be pleasant to the touch – both the power button and volume rockers are placed on the right side, clicky when pressed, and just a very tiny bit shallower than we would like.
Size-wise – the handset sports a 5" display, but does not feel bulky to handle. In terms of contemporary handset size – the Lumia 535 falls in the "normal" category – it keeps the user mindful of which pocket they tuck it in, yet is not larger-than-comfortable.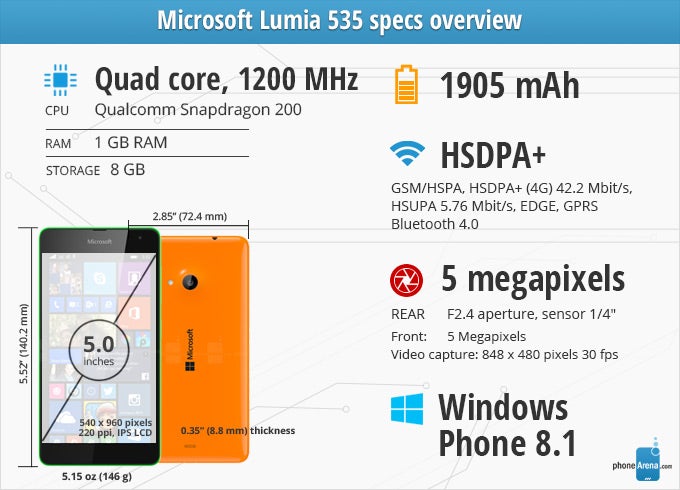 Display
The entry-level 535 looks to deliver an industry-standard experience in terms of display size – its 5" screen delivers a more comfortable usage experience than the 4" one that adorned the
Lumia 530
. Its pixel density, however, is, as can be expected, on the low side – a 540 x 960 resolution makes for a 220 PPI ratio, which often means that the user will need to zoom in to read text on webpages.
We were pleasantly surprised by its color temperature – measuring at 7069 K – just slightly higher than the reference value of 6,500 K – the display does not look too cold and its color reproduction is pleasant and rather accurate.
The viewing angles are, as can be expected, pretty harsh – though, not as bad as we've seen on other low-range handsets. Watching the display straight on will provide for an even image, both in portrait and landscape mode, however, slightly tilting it will lead to distortions.
As far as brightness goes – the lowest the display can go is 61 nits, which doesn't make for pleasant usage in the dark. The highest level it can go to is 433 nits, which, combined with a strongly reflective glass on the panel, doesn't make it easily readable under the sun as well.
Display measurements and quality