M8 vs S5 vs Z2 vs G3: Which H1 2014 flagship would you prefer?
99+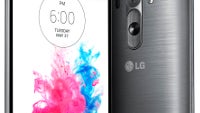 The LG G3 is finally here, and with that, we think we aren't expecting any other major flagship smartphones to launch during the first half of the year. This means we can go ahead and ask you which one of all the wonderful high-end devices that got introduced during these last few months captivates you the most.
For the sake of simplicity, we've limited the choice to just the major Android flagships that have been introduced, namely the HTC One (M8), Samsung Galaxy S5, Sony Xperia Z2, and LG G3. Without a doubt, all of these handsets are simply magnificent, with each being unique or unsurpassed in a certain area. However, we're more than certain that you already have a favorite flagship, so go ahead, vote in the poll below, and let's see which one's going to get the most love from consumers!