Lil Wayne plus champagne plus Samsung Pay equals new ad for the Samsung Galaxy S7
17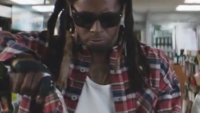 Lil Wayne loves pouring champagne on his
Samsung Galaxy S7
. We learned that from
the first commercial for the phone that starred the rapper
. Surely you remember him pouring bubbly on his handset, and then warning his friend who thought it was ok to soak his iPhone with champagne. No problem, Lil Wayne just handed his pal a spare Galaxy S7 that he happened to have.
In a new ad released by Samsung today, we see Lil Wayne walking back and forth in a convenience store, pouring champagne on his Galaxy S7 as is his wont. He asks the guy behind the desk where the champagne is. It seems that he is about to run out of the stuff, and needs more to drench his phone with.
So what does Lil Wayne use to pay for his new bottle of champagne? Well, Samsung Pay of course. Thanks to Magnetic Secure Transmission, the mobile payment service can be used at any store that allows customers to swipe a credit card. And because the Samsung Galaxy S7 sports an IP68 certification rating, the handset and Samsung Pay work like a charm even with the phone smelling like a New Year's Eve party.
Let's hope for Lil Wayne's sake that he doesn't get pulled over on the way home. We'd imagine that it might be hard to convince a cop that it was his phone that was drinking.
source:
Samsung
Recommended Stories