Lil Wayne stars in three new ads for the Samsung Galaxy S7 and Samsung Galaxy S7 edge
41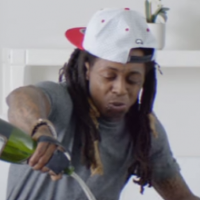 The thing about VR is that it makes things look real to those wearing a VR headset; for the rest of us, the actions of the headset wearer could look a little strange. Take that into consideration when you're watching the three new ads that Samsung has released for the
Samsung Galaxy S7
and
Samsung Galaxy S7 edge
starring Lil Wayne. In one spot, the rapper is wearing a Gear VR headset and says that he is delivering a baby elephant.
In another spot, the rapper is once again using the Gear VR headset and is in a virtual canoe with a virtual Wesley Snipes when the real life actor enters the room. There isn't much more to tell you about that commercial. In the third ad, Lil Wayne is drenching his Galaxy S7 with champagne. Why? Well, it not only shows off the IP68 water resistance of the phone, it also seems to be quite amusing.
Lil Wayne even tests the water resistance of the Galaxy S7 by dunking it inside a fish tank. Meanwhile, one of his friends starts pouring champagne on his phone (which looks like it could be an Apple iPhone from afar) before Lil Wayne tells him that his model is not water resistant. But that's ok, Lil Wayne has another Galaxy S7 that he flips to his pal. Must be nice. Why can't phone blog writers be considered superstars?
Both the Samsung Galaxy S7 and Samsung Galaxy S7 edge officially launched today, which means that you're probably going to see these ads all over your favorite shows this weekend. You can get a head start by clicking on the three videos below.
source: Samsung (
1
), (
2
), (
3
) via Phandroid