Launch of Twidroyd 4 brings new features
0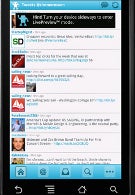 reported
that the official Twitter client for Android had been upgraded to version 1.04. For those who favor third party Twitter apps, you will be pleased to learn that Twidroyd (formerly Twidroid) has been updated to version 4. With the new version comes some changes besides the spelling.
The most exciting new feature is called LivePreview. Available in landscape mode, LivePreview shows you two windows. One is your Twitter feed, and the window to the right shows a preview of the content in your current tweet. The preview could be a picture, a web page or a video. If no links can be found, the box will display the tweet and some buttons that launch certain commands. Android 2.x is required to run the LivePreview feature.
The Pro version of Twidroyd can be purchased for $3.99 which offers you three desktop widgets, support for multiple accounts and allows you to shake your phone to refresh the program, among other features. While the software can be found in the Android Market, if you are shut out from paid apps, you can still purchase Twidroyd Pro by clicking
here
to use your PayPal account.
source:
Twidroyd