LG unveils Optimus F7: a last year flagship would pass for this year's mid-ranger
14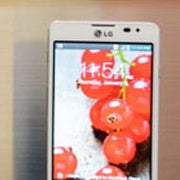 LG has just unveiled the Optimus F7, a device that would easily pass for a flagship last year, and now goes in the mid-range segment. The LG Optimus F7 has a 4.7-inch True HD IPS display with a resolution of 720 x 1,280 pixels, working out to a retina-like 312ppi.
The device is powered by a 1.5GHz dual-core processor paired along with a whopping 2GB of RAM, a fairly solid productivity package. Internal storage is 8GB but you can expand that with microSD cards of up to 32 gigs.
The Optimus F7 features an 8-megapixel rear camera and it also has a
1.3
-megapixel front-facing one, perfect for video conferencing. What's especially impressive about the F7 however is its 2,540mAh battery that should provide plenty of juice.
The device runs on Android 4.1.2 Jelly Bean out of the box and will launch across the globe and first in Europe at a yet unannounced time in the future.
source: LG

LG AIMING TO INCREASE 4G LTE FOOTPRINT WITH NEW OPTIMUS F SERIES
Two New Devices Deliver Fast 4G LTE Speeds and Advanced Features for the Masses
SEOUL, Feb. 21, 2013 – LG is expanding its solid 4G LTE presence with the introduc-tion of its new Optimus F Series at Mobile World Congress (MWC) in Barcelona. With LG's industry-leading LTE technologies, the Optimus F Series is designed to bring a premium user experience and the speed of 4G LTE to a mass audience. Two devices -- Optimus F5 and Optimus F7 -- will make their global debut at the show.
The Optimus F5 is a 4G LTE smartphone with a 4.3-inch IPS display running on a 1.2GHz Dual-Core processor and largest-in-class 2,150mAh battery while the Optimus F7 offers a 4.7-inch True HD IPS display and a 1.5GHz Dual-Core processor powered by a large capacity 2,540mAh battery for long lasting performance. Both devices will be available with the latest Android Jelly Bean 4.1.2 OS and will include advanced UX features such as the upgraded QSlide and Live Zooming, previously only available in LG's premium devices.
The upgraded QSlide allows users to open two apps at the same time, both in full screen mode. Users can change the size, position and transparency of QSlide apps according to their preferences. Functions now compatible with QSlide include video, browser, memo, calendar and calculator. Live Zooming, previously only seen in the Optimus G, is now standard in the Optimus F5 and Optimus F7. Live Zooming allows the user to zoom into a specific area while watching a video. Additional features included in both Optimus F Series devices are QuickMemo, QTranslator, Video Wiz, Safety Care and much more.
"LG continues to lead the industry with 4G LTE innovation and the Optimus F Series, a well-balanced an well-equipped 4G LTE smartphone for the mass market, embodies the best of our broad LTE patent portfolio and innovative UX features," said Dr. Jong-seok Park, president and CEO of LG Electronics Mobile Communications Company. "With adoption of LTE expected to explode in 2013, we are sending a clear message to con-sumers with the Optimus F Series that LTE isn't just for heavy content users and techies anymore. It's for everyone."
The worldwide rollout of the Optimus F5 will begin in the second quarter in Europe, followed soon by the Optimus F7 in selected markets. Exact timing and pricing will be announced at a later date.
Optimus F5 Key Specifications:
• Operating System: Android Jelly Bean 4.1.2
• Processor: 1.2 GHz Dual-Core
• Display: 4.3-inch IPS (256 ppi)
• Size: 126.0 x 64.5 x 9.3mm
• Memory: 8 GB / 1 GB RAM / microSD (up to 32GB)
• Camera: 5.0 MP AF / 1.3 MP
• Battery: 2,150mAh
Optimus F7 Key Specifications:
• Operating System: Android Jelly Bean 4.1.2
• Processor: 1.5 GHz Dual-Core
• Display: 4.7-inch True HD IPS (312 ppi)
• Size: 131.7 x 68.2 x 9.6mm
• Memory: 8 GB / 2 GB RAM / microSD (up to 32GB)
• Camera: 8.0 MP AF / 1.3 MP
• Battery: 2,540mAh