LG Optimus F7 Review
13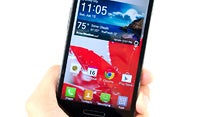 Introduction:
Frequently becoming a common practice, we're not seeing as many new mid-rage smartphones being announced, mainly because last year's flagships tend to occupy the segment when successive devices come out. Regardless of that, there are a few batch that somehow come about through the cracks, which is the case with the
LG Optimus F7
. In the US, it's being made available through regional carrier US Cellular for $100 with a 2-year contract – sporting a modest specs that seems fluffy enough to tangle with some high-end gear out there. If that's the case, let's dive in to find out for ourselves!
The package contains:
microUSB cable
Wall Charger
Quick Start Guide
Product Safety and Warranty Guide
Design:
At first glance, some people will recognize the Optimus F7's design similarities with LG's former flagship device in the
Optimus 4X HD
, but as a whole, there isn't anything too profound here. Actually, it's rather conventional by LG's standards, as it's sporting a plastic body that feels decent with its construction and build quality – albeit, seeing that it's the glossy variety, it tends to easily show finger prints and smudges. Despite that, the handset has a pleasant design and feels balanced in weight to still make it an attractive looker for a mid-range thing.
A rarity indeed, the LG Optimus F7 feature a handy multi-colored
LED notification light
that outlines the border of its physical home button, which is surrounded by the usual
back and menu capacitive keys
. Depending on the notification, it'll pulsate in different colors – very cool! Above the display, we have its earpiece, proximity sensor, and front-facing 1.3-megapixel camera.
Around its chrome plated
bezel
, we find all of the usual suspects that include the power button, volume control, dedicated QuickMemo app button, 3.5mm headset jack, noise cancelling mic, microUSB port, and standard mic. With its set of physical buttons, they're a bit flat, but at least their responses are sufficient.
In the rear
, the Optimus F7 is packing along an 8-megapixel auto-focus camera with LED flash, which is on the higher end of the scale with mid-range devices. Naturally, it has the ability to shoot video in 1080p. Lifting off the rear glossy back casing, we gain access to its 2540 mAh battery, microSIM, and microSD card slots.
Display:
Crazy to believe it, we're getting to a point where mid-range devices have some pretty sweet looking displays on them – and that's exactly what we see here with the LG Optimus F7! It's a giant sized
4.7-inch 720 x 1280 (720p) IPS-LCD panel
on there. Easily an item that would be fitting for any high-end device of last year, we're pleased with the overall package here. Specifically, its 312 ppi pixel density is good enough to visualize small details from a normal distance away – while its color production is neutral and produces tones that are more accurate. Outdoor visibility is okay with the help of some shading, seeing that its brightness output isn't the strongest, plus, there's just a small fragment of distortion at extreme angles. It's not cutting edge, but heck, it's more than adequate for a mid-ranger!
LG Optimus F7 360-Degrees View: