LG ads reveal the LG Revolution for Verizon's LTE network, and the thin LG Optimus Black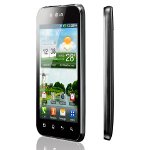 Well there, save for the expected appearance of the dual-core
LG Optimus 2X
it looks like the company is planning to pleasantly surprise us with two more high-end smartphones.
Appearing prominently on the display ads is the
LG Revolution
, whose tagline "
The largest, most advanced 4G LTE network in the world
" is most certainly securing it a place in Verizon's portfolio.
The other phone is the
LG Optimus Black
,
leaked previously
as the LG B, obviously "B" referred to the color. "
Innovatively slim smartphone with the best display clarity
" is the slogan here, alluding to the supposed 4" IPS LCD on the device. Given the fact that LG is the main producer of the
Retina Display on the iPhone 4
, the company's mobile screen technology is obviously making inroads to their own handsets, so we are to expect an extremely bright (700 nit, compared to the iPhone 4's 500 nit) screen with high resolution.
The LG Optimus Black is also extremely thin, and looks completely chic with its cut corners. The power consumption of this IPS display is just 0.7 watts when showing white, compared to Super AMOLED's 1.13 watts, which should help with battery life, allowing for a smaller battery. Maybe that is why LG has managed to keep it so thin.
How much exactly, we will be at LG's press conference to find out.
source:
Engadget