LG Optimus Black Review
33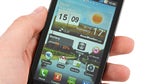 This is a global GSM phone. It can beused with
T-Mobile
USA and
AT&T, but
without 3G.

Introduction: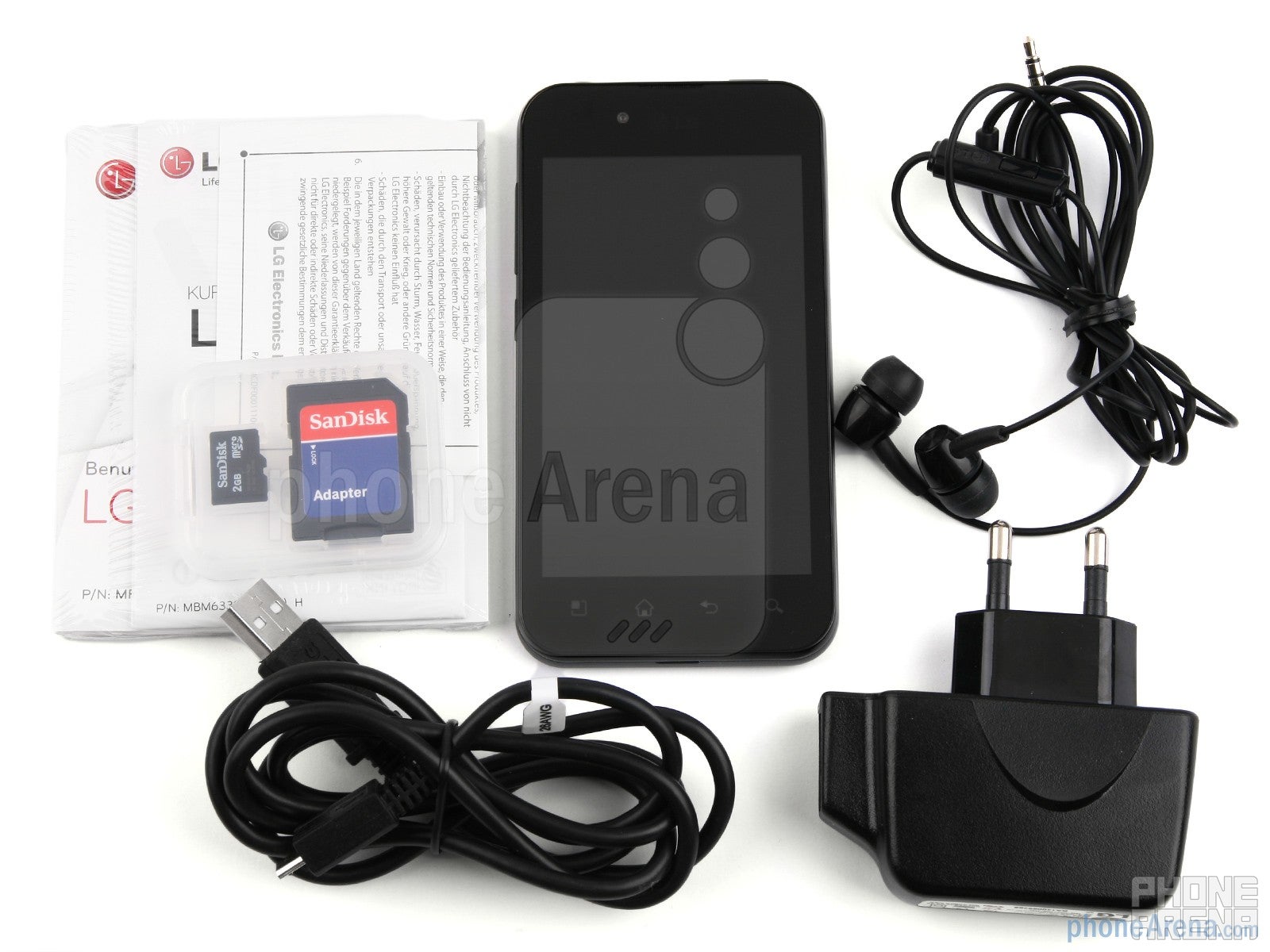 We are not really sure why this happens, but every time we have to review a new slim and sexy device for you, we feel a heartwarming blend of excitement and anticipation. Such is the case with the
LG Optimus Black
, which we are holding in our itching hands today. The smartphone captured our attention right out of the box with its thin waistline measuring a mere 9.2 millimeters making it officially one of the thinnest Android devices we have ever come across. Furthermore, the beautiful 4-inch
NOVA display
has already impressed us with its unprecedented brightness of up to 700 nits – enough to outshine all its current IPS-LCD and AMOLED competition. But does everything look as pretty on the inside as it does on the outside? Well, it is time to find out!
Design:
It doesn't take a second look to figure out that the LG Optimus Black has been designed for the style-conscious audience in mind. Its thickest section measures only 0.36 inches (9.2 millimeters), which is a guarantee that the smartphone will never be noticed in your pocket. Its weight of 3.84 ounces (109 grams) seems to be spot on for a device of its size – the handset feels neither too light, nor too heavy in the hand. Such a small figure was achieved greatly thanks to the all-plastic body of the smartphone, which means that die-hard fans of solid metal constructions might want to look away now. We do agree that adding some premium materials would have added a great dose of style to the handset, but this would have also taken a toll on its weight, so we accept the Optimus Black's plastic outfit just the way it is. Despite its name, the LG Optimus Black will not come in black only – a white and a pink versions are expected to be seen as early as next month.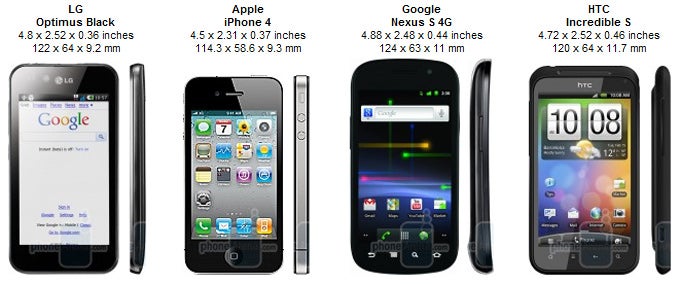 You can compare the LG Optimus Black with many other phones using our
Size Visualization Tool
.
The overall design of the LG Optimus Black is rather minimalistic with no unnecessary buttons or lights anywhere in sight.
The four capacitive touch-sensitive buttons
underneath the display change their color from pure white to neon blue each time you press them. That nice little touch goes to show the attention to detail the Optimus Black has been honored with. Video calls are made possible thanks to the
2-megapixel front-facing camera
, which is located next to the nearly unnoticeable earpiece.
Flip the phone around and you will see a matte plastic
back cover
protecting the LG Optimus Black's battery and internal components. The
5-megapixel auto-focus camera
and the tiny single speaker become apparent as well. Also, we cannot miss commenting on the slightly curved edges on the back of the smartphone – a characteristic dubbed C-curve by LG that not only reduces the device's slim profile even further, but also adds a nice comfortable grip to it.
Taking a closer look at the LG Optimus Black's
left side
reveals something that LG calls the G button. It is located right under the volume rocker and enables the phone's interface to be interacted with by tilting or rotating the device, but we will go through all of its functions a little later. Charging the LG Optimus Black's battery is done via the microUSB port located on
top
of the device under a sliding cover. Right next to it we find a 3.5 millimeter headphones jack, a tiny secondary microphone used for noise cancellation, and the smartphone's power/lock button.
NOVA display: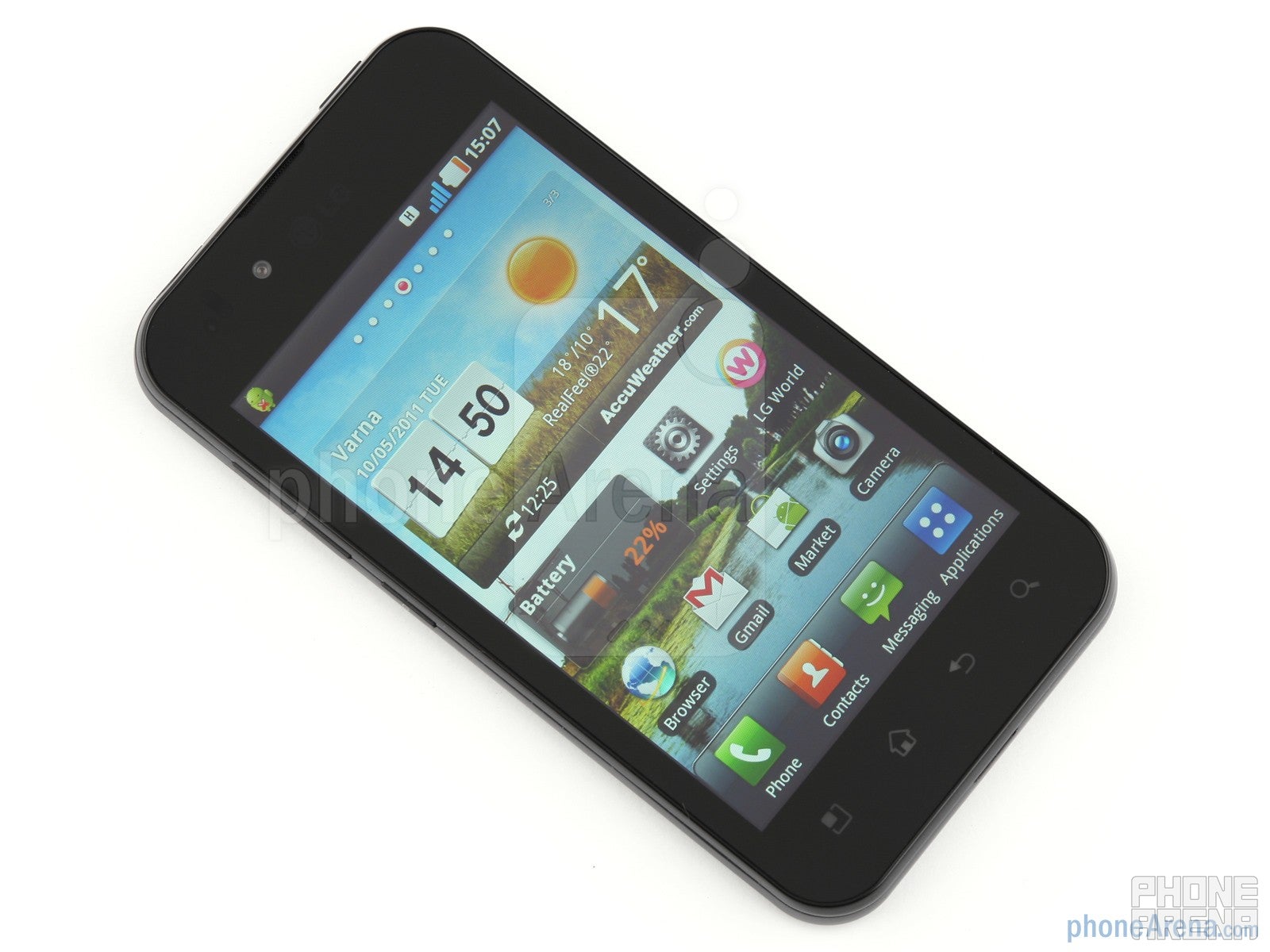 Pick the LG Optimus Black up, turn it on, and you will be greeted by a 4-inch IPS-LCD screen with 480x800 resolution – the NOVA display, as LG has decided to name it. What makes it so special that it needs to have its own name? Well, the NOVA technology that LG has incorporated in its screen makes it the brightest display ever installed on a smartphone so far. The maximum luminous output of the display clocks at the impressive 700 nits, or 700 candelas per square meter, if you will. In theory, that should make the NOVA display look brighter when compared to, let's say, the iPhone 4's display with its 500 nits of brightness, or next to most of the other smartphones, which average at about 480 nits.
LG states that 700 nits is the exact threshold for achieving perfect outdoor visibility, allowing the human eye to easily distinguish pictures even in direct sunlight. In reality, our outdoor tests showed that the Optimus Black's display remained clearly visible indeed, but we did not see any miracles out of it. The screen was bright just enough for reading emails, surfing the web, and navigating through the menu while being under direct sunlight even though we had to clean its surface from our fingerprints first. As far as viewing photos in a sunny day, you better find some shade before doing that. Otherwise, under normal lighting conditions, the display on the LG Optimus Black was noticeably brighter than other smartphones that we paired it with, including the
iPhone 4
and the
Samsung Galaxy S II
, although the difference in brightness levels was not that huge.

From left to right - LG Optimus Black, Samsung Galaxy S II, Apple iPhone 4, LG Optimus 2X
The NOVA display technology is capable of delivering some very nice and deeply looking shades of black making photos and videos look quite lifelike. Whites are bright and warm, without a hint of showing blue or yellow tints. But blacks and whites are not everything – the entire color spectrum is vivid and intense though we might say that the reds tend to stand out too much. Overall, the colors are bright and impressive, feeling only a bit overly saturated. Photos and videos look clear and pleasing to the eye.
Of course, we cannot forget mentioning that the NOVA display is very energy efficient. According to LG, the NOVA technology allows for a greater amount of light to pass through, making the screen brighter without having to suck excessive amounts of power from the battery. Besides that, pixels that display black essentially turn themselves off thus draining exactly zero watts of power.
The NOVA display on the LG Optimus Black is one of the smartphone's main selling points, and we do agree that it performs great indeed. Let's move along and see if LG has put just as much effort in crafting their device on the inside like it has done on the outside.
LG Optimus Black 360-degrees View: Recommended Stories