LG Vortex spotted with low end specs for Verizon's line-up
4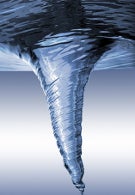 With a 600MHz processor,
3.2
inch display, Bing search replacing Google at every corner, and no FM radio on board, you wouldn't mistake the LG Vortex for a higher end device like, say, the Motorola DROID X. The device will come with Android 2.2 pre-installed and the word is that the phone is pretty zippy considering there is no Snapdragon or Hummingbird processor anywhere near the handset.
With a nice sized number of high end Android devices like the HTC Droid Incredible, DROID X and the DROID 2 in Verizon's batting order, models like the Vortex balance things out on the opposite side of the price scale. This way there is an Android device for everyone, and besides, the more Verizon customers using Google's open source OS, the more potential customers for the carrier's upcoming VCAST App Store that we
reported
on. What Big Red leaves on the table when it sells a lower priced Vortex, it can more than make up by selling apps.
LG Vortex Preliminary Specifications
source:
EngadgetMobile