LG Vortex Review
4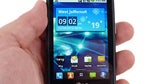 Introduction:
The LG Optimus One family of phones has already proven to be a worldwide hit, and thus far the Optimus T and S for T-Mobile and Sprint, respectively, have hit the shelves with both critical praise and sales success here in the States. Now the third member of the U.S. family, the
LG Vortex
, is available from Verizon in all of its "transitional smartphone" glory. Despite dropping the Optimus moniker, the Vortex is nearly identical to the Optimus One. Included in the box you'll find a 2GB microSD card and a combo USB cable/AC adapter.
Design:
Like Sprint's Optimus S, the Verizon Vortex tweaks the Optimus One's original design but retains the overall feel. It features the same responsive 3.2" 320x480 display as the rest of the line. It is a good display, plenty bright and generally readable, especially for an entry level handset. It has both an ambient light and proximity sensors hidden near the top. The left side simply features a microSD slot while the right houses the volume rocker. The power button and 3.5mm headphone jack sit along the top of the phone, while the charging and data port is at the bottom. The battery door is generally coated in soft touch plastic with the 3.2 megapixel camera and speaker perched near the top.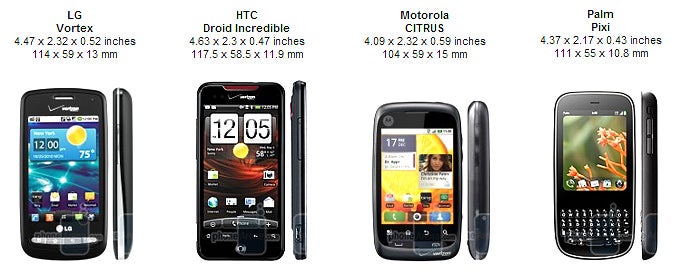 You can compare the LG Vortex with many other phones using our
Size Visualization Tool
.
The LG Vortex, like the other Optimus One phones before it, feels very good in the hand. It has plenty of grip and is a good size to hold comfortably. It slides easily into the pocket and feels natural against the face. LG has done a great job with the Optimus One line and the Vortex is no exception.
Recommended Stories