LG V30 slated for August 31 announcement just before IFA 2017, to cost ~$700 in South Korea
10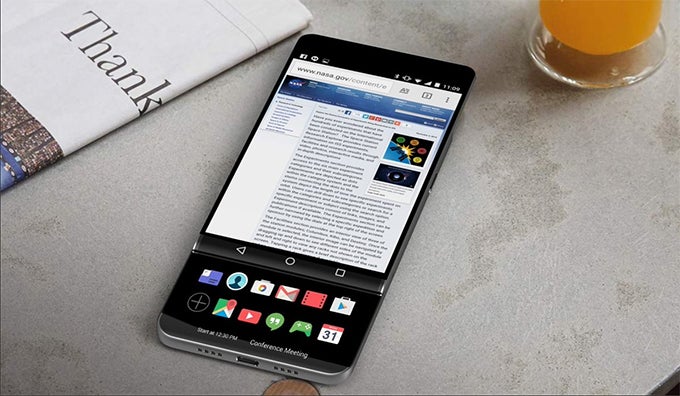 A recent report from Korean media outlet ETNews claims that LG will unveil its next top-tier handset, the
LG V30
, at the upcoming IFA trade show which will take place in Berlin, Germany, from September 1 to September 6. Supposedly, the phone will become official on August 31, just a day before IFA kicks off, which is not unusual at all — such high-profile phone announcements usually happen just before a major expo kicks off so that they get as much media coverage as possible.
If we judge by LG V20's arrival last year, which also coincided with IFA 2016, then LG is quite likely to stick to a yearly refresh cycle and indeed show the V30 come late August. Interestingly, the LG V20 was the first phone to come with the current version of Android last year, Android 7.0 Nougat, which set a precedent for Google — the developer behind the world's most popular mobile OS had always made new versions of Android available on its own devices. There's a slight possibility that the V30 can reiterate this exclusive software collaboration given that Android O is slated for mid-August release, but we wouldn't want to speculate without any concrete pieces of info.
As per ETNews, the V30 might carry an 800,000 KRW price tag in South Korea, which equals around $700. The market release is expected to kick off mid-September in South Korea, with other markets getting it soon after that.
Sadly, the new rumors don't give away any new possible hardware specs and features, but we already seem to know a bunch of stuff for the V30. It will likely be powered by the Snapdragon 835 and will feature a 5.7-inch Quad HD display that could be an OLED one - a first for LG. The V30 is also rumored to be a bezel-less phone, but most importantly, it could be a slider phone that will feature a slide-out secondary display doubling as a keyboard and an app switcher — definitely an intriguing prospect!
Recommended Stories