LG Spirit 4G hands-on
8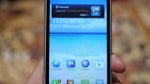 Introduction:
Always a dandy place to scope out some gear during big tradeshows like CTIA, Pepcom's off-site event introduced us to one device from LG's stable that we have yet to check out in person. In this case, it's the
LG Spirit 4G for MetroPCS
, which is one heck of a modest offering for the high-end segment of MetroPCS' lineup – all priced at
$219 after rebates
. Considering that lovely devices of this caliber aren't released too often for MetroPCS, it's sure to entice those under the carrier's wing who are looking for something drool worthy to pick up.
Display:
Taking a quick look at the
4.5-inch True Color IPS display
of the LG Spirit 4G, it's not the most polarizing thing our eyes have seen, especially when its resolution is less than 720p – albeit, when you're limited by a budget, there are always going to be compromises somewhere. Specifically, its resolution stands at a meager
540 x 960 pixels
, which is low for a device regarded to be on the upper end of MetroPCS' lineup, but far better than most of the other selections. For an IPS display, it's rather distracting to find that colors are dull in tone – while viewings angles are equally weak, as the display tends to distort at different angles.
Design:
Let's be honest here folks, there's nothing attractive with the design of the LG Spirit 4G, since it's pretty much going for the
straightforward approach
. Sure, it's lacking the stylish design elements of LG's other prized smartphones, like the
Nexus 4
or
Optimus G
, but we're most surprised by how
light weight
it is, which is attributed to its all plastic frame. As for the in-the-hand feel, it's undoubtedly comfortable due to its feather-like weight, plus, its rigid rear casing helps to provide a solid grip. Like we said, there's nothing too pretty with this one, but at least it's not too overbearing to hold.
Specs-wise, the LG Spirit 4G is indeed beefier than most of the selection on MetroPCS' catalog, since it features a 5-megapixel rear camera with LED flash, 1.3-megapixel front-facing snapper, aGPS, Bluetooth 3.0, and 802.11 b/g/n Wi-Fi.
Interface:
Just like other recent entries from LG, the Spirit 4G is running the latest
Optimus UI skin
on top of
Android 4.0 Ice Cream Sandwich
. Yeah, it's running an older build of Android, but hey, considering that the Optimus UI has some cool personalization and slick transition effects, it does a decent job of masking things up. Even better, we're extremely impressed that performance is rock steady and responsive thanks to its
dual-core 1.2GHz Qualcomm Snapdragon processor
. In fact, its performance rivals closely to other recent LG entrants in the Android space – like the
Optimus G Pro
. Throw in 4G LTE connectivity, the handset is sure to deliver a gratifying web browsing experience as well.
Expectations:
Seriously, for a device that doesn't require a 2-year agreement to own, the $219 after rebates cost of the LG Spirit 4G seems reasonable. Perhaps, it's the guise of it falling within the premium segment within MetroPCS' lineup that makes it an attractive offering – yet, there are some elements that don't really live up to those qualities. Regardless of that, the price point combined with its overall package seems adequate enough to check out over other things.