LG Optimus G (AT&T & Sprint) Review
71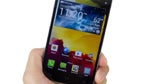 Introduction:
Try as hard as they can, but LG has been unable to make some movement in the always-competitive high-end market – to no surprise of course, they've been in an endless rut of some kind. In the past, we've seen devices like the
LG Optimus 2X
,
Optimus 4X HD
, and
Prada 3.0
, which on paper seemed like respectable offerings, but lacked the X-factor to truly keep them in good company with some of the more notable and grand smartphones out there. Rather than coming to market with a device that's just catching up to the competition, the Korean based company is forging ahead by making some waves in bringing to market the world's first smartphone to feature a quad-core processor and 4G LTE connectivity – the
LG Optimus G
.
Needless to say, it's the marriage we've been patiently waiting for since quad-core smartphones started making waves earlier this year. Aiming to becoming its flagship for the foreseeable future, the LG Optimus G will soon grace the lineups of AT&T and Sprint respectively – albeit, there are some differences between the two models. Regardless of that, the core foundation is intact thanks to their combination of featuring a mighty 1.5GHz quad-core Qualcomm Snapdragon S4 Pro chipset with 2GB of RAM, and of course, the always-lovable 4G LTE connectivity.
Considering that both AT&T and Sprint will be selling this bad boy for the usual golden price of $199.99 with a 2-year contract, it's sure to capture some attention from hardened smartphone fanatics out there. Ultimately though, it's going to need more than a high-end specs sheet to win over consumers, because as we all know, that's only the answer to half of the equation. Timing is also on its side as well, since it's hitting the scene slightly ahead of its competition, but it has only a short time to make an endearing mark.
The package contains:
microUSB cable
Wall Charger
Quick Start Guide
Warranty Information Guide
Design:
Although they share the same name, the designs of the two models are slightly different – with the Sprint variant being more faithful to the international version. To no surprise, the design of the LG Optimus G follows in form to what we've seen with the LG Optimus 4X HD and Prada 3.0 from before. Sure, we would've liked to see an overhaul with its looks, but nonetheless, it's the design DNA that's increasingly becoming standard practice for LG's premier devices, so we're accepting of it.
In all honesty, it's appreciable on some levels thanks to its sturdy construction and more premium choice of materials. Before, we've been harsh towards the cheapish nature of LG's devices, but with this, it exudes some sophistication due to its subtle chrome accents, star screws lining its bottom edge, slick feel, and "Crystal Reflection" rear casing. With the latter, it coughs up a neat effect that changes the pattern depending on the angle we're holding it, which is nice but nothing that's regarded as an instant attention grabber over other things. When it comes to size, it's not hiding its wide figure at all, which makes for some difficulty using with one hand (just as any other phone with a large screen), but it's still light in weight and svelte in frame to keep it in the same level as other contemporary smartphones out there.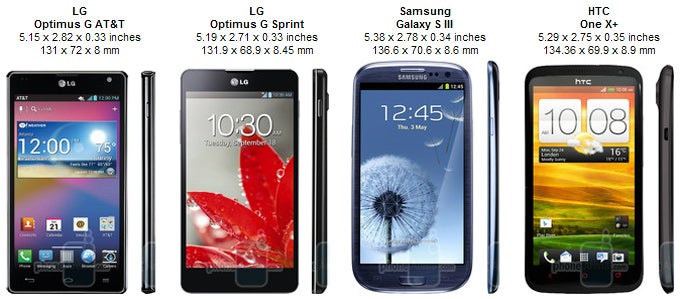 You can compare the LG Optimus G with many other phones using our Size Visualization Tool.


As we've mentioned already, there are
differences between the designs of the two versions
. Looking at the AT&T model, it's sporting more rounded corners around its trim – while employing a cleaner looking plastic textured surface on its top and bottom edges. Conversely, the Sprint model has a slick chrome bezel trim outlining its frame. On one hand, we adore the slick feel exhibited by the two devices, but they're notorious for getting dirtied by smudges and fingerprints very easily. Overall, it's a predictable looking smartphone that lacks the polarizing designs of some of its highly-esteemed colleagues, but it's still appreciable for its more premium look and feel over LG's previous offerings.
The LG Optimus G is sporting three
buttons below its display
. Thankfully, they're all spaced far away from one another to minimize accidental presses. Perched in their usual locations, the narrow earpiece and front-facing 1.3-megapixel camera are found above the display – with the latter having the ability to shoot video in 720p.
Strange to say, there's more of a pronounced feel and responsiveness attached to the
physical power button and volume control
on Sprint's model. However, we do like that the power button on the AT&T version doubles as its notification light as well, as it has a subtle red glow outlining the button – whereas, it's in close proximity to the front-facing camera on the Sprint LG Optimus G. As for the commonalities found
around their trims
, they include the 3.5mm headset jack, microphone, noise-cancellation mic, and microUSB port. For those wondering, the microUSB port also offers video-out with the aid of an optional MHL adapter. We'll talk more on its specific functionality a bit later on in the review.
Another distinguishable difference between the two, is that the AT&T variant is sporting a lower count 8-megapixel auto-focus
camera
with LED flash that's flush to the surrounding surface. In contrast, Sprint's model is packing the same 13-megapixel monster with flash found with the international version – and just like it, the lens is jutting out slightly. With their closed designs, there's no access to their internal 2,100 mAh batteries, but with the LG Optimus G for AT&T, it features microSIM and microSD slots on its left side.
Display:
In this day and age, we're bombarded by many smartphones packing extraordinarily large displays, which seems to be the trend with today's premier smartphones. Rightfully so, that's what we find here yet again with the LG Optimus G! Going with the notion of bigger is better, the handset is packing along a
4.7-inch WXGA 1280 x 768 HD IPS Plus display
that interestingly enough, wins in many aspects – in size, detail, clarity, and outdoor visibility.
For starters, there's a ton of sharp detail found everywhere, as its pixel density of 320 ppi, which employs the more favorable RGB sub-pixel layout, enables us to watch videos and browse the web with full fidelity thanks to its superb details. Secondly, unlike some other rivaling display technologies, its IPS based display produces colors that are far more natural in tone than others – though, we do notice just a subtle hint of distortion at extreme angles, but it's never to the point distracting. Lastly, we have to hand it to LG for delivering optimal quality with outdoor visibility, since we're able to perfectly view the display in the full view of the sun. Also being a noteworthy item to mention, the Optimus G is LG's first smartphone to feature "Zerogap Touch" technology, which simply combines the LCD panel with the glass and eliminates the air gap usually found there, to make it appear closer to the surface.
LG Optimus G Sprint 360-degrees View:
LG Optimus G AT&T 360-degrees View: