LG G Pro 2 vs Samsung Galaxy Note 3 and an army of phablets: size comparison
24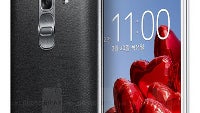 The
LG G Pro 2 has just gone official
and it's one big phone in not just specs, but also in size. With a huge 5.9-inch display, the G Pro 2 easily fits in the category of phablets, along with devices like the
Samsung Galaxy Note 3
,
HTC One max
and
Sony Xperia Z Ultra
. However, in this new world of large-screen smartphones, some devices are bigger and some manage to stay relatively lean in overall size and appearance. Is the G Pro 2 one of the bigger or smaller ones? Let's find out.
One thing that's immediately clear by just looking at the G Pro 2 is that it is not a device that you'd be comfortable using single-handedly. There is no established measure about what smartphones size is good for single-handed usage (and people's hand sizes vary a lot), but we'd say that - on average - phones that are narrower than 2.55 inches (65mm) are considered to be comfortable for typing with just one hand. The G Pro 2 measures a much wider 3.22 inches (82mm), and is way out of that league.
At the same time, when compared to other large-screen phones out there, it is actually smaller than most of them, and only the Galaxy Note 3 is considerably more compact. At the same time, the Note 3 also features a smaller, 5.7-inch display.
Right below, you'd find a visual comparison of the LG G Pro 2 fared against not just the Note 3, but all top phablets and regular smartphones out there. It's big, but big is becoming the new norm now, don't you think?
LG G Pro 2 size compared against phablets
LG G Pro 2 vs regular-sized smartphones
Recommended Stories