LG Enlighten dummies arrive at RadioShack, launch coming soon
5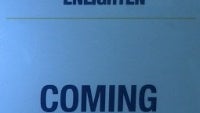 The entry-level full QWERTY
LG Enlighten
has appeared
here
and
there
, usually bundled with a "coming soon" label, but up until now we haven't seen it in store. Not anymore - the Enlighten seems to
have already shipped to RadioShack
, at least this dummy model displayed at the 'Shack hints that the handset is ever so close to getting released.
We already know that the LG Enlighten is expected to
cost you less than a dollar
($.97)when you get it with a two-year contract, at least judging by the
Wal-Mart product catalog listing
. So what do you get for your hard earned buck? A 3.2-inch screen with a resolution of 320 x 480 pixels, a modest 800MHz processor powering Android Gingerbread and a basic 3.2-megapixel shooter on the back. Far from stellar, but still catering to the most basic user needs out there.
The handset was first expected to arrive on
Verizon come August 25th
, but it's been nearly a month since that date and we're still waiting. Should come anytime now, and given that you don't really need to break the piggy bank to get it, is someone out there looking forward to the LG Enlighten?
Thanks, Thump3rDX17!