Motorola DROID BIONIC and LG Enlighten spotted on Verizon testman site
17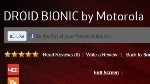 It seems like everyone is waiting for the Motorola DROID BIONIC, as it will be Verizon first dual-core smartphone to run on their 4G LTE data network.
All indications are pointing to a
September 8th
launch, as this is what is currently showing in Verizon's InfoManager system - which is used by store employees. Today the Verizon web site took a step in the right direction, as the
DROID BIONIC
is secretly listed on the TestMan site - which often times has a phone listed before it's up on the main site. But don't get your hopes up, as you can't place an order from the TestMan site, nor would you, as it shows a
price of $99,999.99
. Don't worry, the real 2-year price is expected to be $299.99 after rebate. Since this is simply a "placeholder" page used the Verizon web-design team, none of the specifications for the phone aren't listed yet. In fact, it looks like they are using the template of the Samsung Droid Charge right now. For those of you who haven't been following the evolving DROID BIONIC, it will run on Android 2.3 Gingerbread and will feature a 1GHz dual-core processor, 4.3" qHD display, 8MP autofocus camera with 1080p video, 1735mAh battery, 1GB RAM, 16GB internal memory, and will come with a 16GB microSDHC memory card pre-installed.
The lesser-known
LG Enlighten
placeholder page is also listed on the Verizon TestMan site. This smartphone, which
we first heard of
earlier this month, is expected to come in at a moderate price and has a
full sliding QWERTY keyboard
for those who don't like typing on the screen. The LG Enlighten will run on Android 2.3 Gingerbread and will feature a 3.2" HVGA display, 800MHz processor, 3.2MP autofocus camera, 150MB internal memory, and a 1500mAh battery.
source: Verizon Wireless (
DROID BIONIC
,
LG Enlighten
)