It's official, Samsung and AT&T will exchange your waterlogged Samsung Galaxy S4 Active
32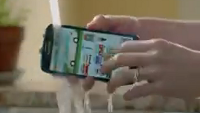 About 24 hours after
we exclusively broke the story about Samsung and AT&T's plan
to swap out water damaged
Samsung Galaxy S4 Active
units, we can tell you that the plan is official. As we told you early Tuesday morning, those of you with an IP67 certified Samsung Galaxy S4 Active that is having difficulties because of water damage, will be allowed a
one-time exchange
to a new Samsung Galaxy S4 Active device as a courtesy. This is being done even if the Liquid Damage Indicator has a positive reading.
Even though the phone is being sold as a version of the Android flagship model that can handle anything you throw at it, the warranty states that liquid damage is not covered. That is a bit ironic considering how AT&T's ad for the phone shows it in situations that would certainly destroy a regular Galaxy S4, including scenes showing the phone getting wet. Check out the ad below. The IP67 certification means that the Samsung Galaxy S4 Active can be submerged in 3 feet of water for 30 minutes and be perfectly fine.
The exchange is being offered only to those who bought their unit from AT&T whether it was purchased online or at an AT&T store. The program has started and will run through October or when replacement units are all gone, whichever comes first.
"Samsung designed and tested the Galaxy S 4 Active to adhere to IP67 standards for water resistance (1 meter for 30 minutes). If your Galaxy S 4 Active has been damaged due to water exposure, bring it back to an AT&T retail store as soon as possible for a one-time exchange for another Galaxy S 4 Active."-
Samsung
source:
electronista,
YouTube