Samsung Galaxy S4 Active Review
61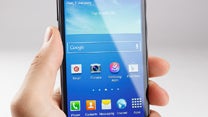 Introduction:
Water-resistant Android smartphones are anything but new. The
Motorola DEFY
– released back in 2010 – was one of the first notable members of the species, followed by handsets like the
Sony Ericsson Xperia Active
and the
Samsung Galaxy Xcover
, to name a few. These, however, were mid-range handsets at the time of their release, and it took a while before someone managed to deliver a water-resistant Android smartphone that was actually good on a hardware level.
The
Samsung Galaxy S4 Active
is one such smartphone. Being
IP67 certified
, it doesn't mind getting a little wet every once in a while. In fact, it should be able to survive a dive into water down to a meter for up to 30 minutes. The handset is dust-tight as well. At the same time, it has the hardware specs needed to rank among today's best Android smartphones: 1080p screen, Snapdragon 600 silicon, 2GB of RAM, 2600mAh battery, with Android 4.2 running the parade.
All in all, the Samsung Galaxy S4 Active is a remarkable Android smartphone – packed with features that we rarely get to see incorporated into a single device. Read on in case we've sparked your interest already!
Design:
Samsung is known for rehashing the same design over and over with each newly launched smartphone. The Samsung Galaxy S4 Active, however, doesn't look like your typical Galaxy handset. It has an elegant, yet adventurous appearance, and that's something we surely like.
We are reviewing the grey version of the Samsung Galaxy S4 Active, with a body made of glossy plastic. The material is suitable for a smartphone meant to be tougher than the rest as it is more durable than glass or metal. Thankfully, the handset doesn't slip easily out of the user's hand, although its orange variant provides even better grip with its textured matte surface. Samsung has a blue Galaxy S4 Active version as well, in case grey or orange aren't among your favorite colors.
Compared to one of its rivals – the
Sony Xperia Z
– the Samsung Galaxy S4 Active is noticeably thicker, but still well within the acceptable range. It is also very close to Sony's flagship in terms of size and weight. Single-handed use of the Galaxy S4 Active may be a challenge, depending on the size of the user's hands, although we were mostly comfortable with its proportions.
Taking off the
back cover
of the Samsung Galaxy S4 Active reveals what gives it its water-resistant properties. There is a rubber band around the sides, preventing water from penetrating into the housing and damaging the phone's internals. However, we must note that while the Samsung Galaxy S4 Active is protected against dust and water damage, it can't be regarded as shock-proof. There are no rubber elements on its sides to absorb the energy of shock and vibrations, not to mention that the 5-inch screen on its front is still vulnerable to cracks or scratching. Simply, one must avoid dropping it on hard surfaces.
There is an excellent set of
physical buttons
present on the Samsung Galaxy S4 Active. They are all textured and respond with an audible click when pressed. Since they are all raised well, one can operate them comfortably even while wearing mittens.
Display:
Just like the Galaxy S4, the Samsung Galaxy S4 Active comes with a
5-inch touchscreen
. The resolution is also identical –
1080 by 1920 pixels
, resulting in an outstanding pixel density of over 440 ppi. However, a TFT LCD screen has been used instead of a Super AMOLED panel – a solution that has both its positive and negative sides.
On one hand, the Samsung Galaxy S4 Active is easier to use outdoors as its screen is slightly brighter than the
S4
's Super AMOLED display. Under the right angle, we had no troubles reading email, browsing through our contacts, using the camera interface, and even checking out a web page or two on a bright, sunny day. Also, the level of detail is nothing short of excellent due to the screen's high pixel count.
Color reproduction
is accurate and neutral, which is how it is supposed to be, although one can boost the saturation up a notch from the display settings menu. But on the other hand, The S4 Active's screen can't quite achieve the deep blacks seen on Super AMOLED panels.
Being a smartphone made for adventurous folks, it comes as no surprise that the Samsung Galaxy S4 Active
can be operated even while wearing gloves
. That is made possible by its super sensitive touchscreen. Oddly, using the phone with wet fingers is a no-go, which is shocking given the fact that Samsung is advertising the Galaxy S4 Active as capable of taking photos underwater.
Yet overall, we are more than content with the screen outfitted on the Samsung Galaxy S4 Active. It is big, bright, beautiful, and perfectly suitable for every task.
Recommended Stories