Samsung and AT&T to offer one-time exchange of water damaged Samsung Galaxy S4 Active units
41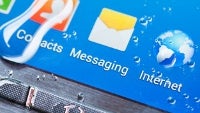 Here is an interesting bit of news from one of our loyal readers. According to our source, an internal menu inside AT&T states that the carrier and Samsung will be offering users of the
Samsung Galaxy S4 Active
a chance to make a
one-time exchange
if their current unit has been damaged by water. So even if the phone's Liquid Damage Indicator (known in the industry as the 'LDI') has a positive reading, you can still make this one-time swap. The exchange can be made for another Samsung Galaxy S4 Active only.
You might recall that we have heard about a few Samsung Galaxy S4 Active units not holding up underwater like they are supposed to. The IP67 certification that the phone earned is supposed to allow the model to withstand
being submerged
in 3 feet of water for 30 minutes. Back in June we told you how USA Today tech reviewer Ed Baig was using a review model of the phone to take underwater pictures in his pool
when the phone died after being held underwater within the depth and time limit specified by Samsung and AT&T
. As we told you at the end of last month, the warranty for the phone
does not include damage created by liquids
. This could be due to Samsung and AT&T's worry that not everyone will remember to do the little things necessary to make sure that the waterproof seal around the phone is tight.
The memo says that the exchange will be good only for handsets with liquid damage and that those with physical damage will go through standard operating procedures. AT&T reps are being instructed to make sure that the device was purchased directly from AT&T. Those who bought the Galaxy S4 Active from Best Buy, Radio Shack, Walmart or another retailer will inform the customer to take their waterlogged device back to the store where it was purchased from.
Our source did not give us a time frame for the exchange policy and we're not sure if there will be a public announcement made by Samsung, AT&T or both.
Thanks, Anonymous Tipster!