Industry sources indicate that 1M PlayBooks & 800K Motorola XOOMs are on on order for Q1
5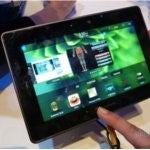 After being enthralled by the wonderful experience found with the
BlackBerry PlayBook
and
Motorola XOOM
during CES, it's no wonder why there are already high expectations about sales figures for the upcoming tablets.
DigiTimes is reporting that industry sources indicate that Chinese manufacturer Quanta Computer is in position to manufacture and ship approximately
700,000 to 800,000 Motorola XOOM
and
1 million BlackBerry PlayBook tablets
during the first quarter of 2011. Although the figures are coming from an unconfirmed report, it does seem like a fitting goal when you consider how huge tablets have become of late thanks to the string of successes found with Apple's iPad and other competing devices.
For the second quarter, we can expect to see Quanta Computer to begin shipping both 3G and 4G versions of the BlackBerry PlayBook, while the "LTE version" of the Motorola XOOM will commence shipment as well during the period. However, it's worth noting that Motorola mentioned that the XOOM will receive 4G LTE connectivity with the aid of a removable modem of some sorts – which would require owners visit Verizon stores to have it installed.
Nevertheless, these figures do point to the telling truth that big business is at hand surrounding the tablet market. And with 2011 just beginning, it's going to be interesting to see how the year turns out in this competitive market.
source:
DigiTimes