RIM BlackBerry PlayBook Hands-on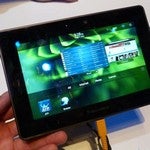 Tablet, tablets, and even more tablets. That seems to be the common theme resonating throughout CES, but when there were so many that were there just to make it to the show, only one seemed to truly stand out as it came to life in usable form. For a good majority of the tablets showcased at CES, they were merely shells that didn't quite have a polished platform experience to undoubtedly release their full potential. However, RIM's BlackBerry PlayBook managed to enthralled us right on the showroom floor with its overall better looks and fully functioning platform experience to usher in a new era for them.
Visually, the
BlackBerry PlayBook's design
is neither overly impressive or dismal, but instead, it plops right in the middle with its sleek looks and quality construction. For something packing a 7" display, it looked slightly more compact than other comparable tablets at the same time. However, we are more intrigued by how RIM managed to pack plenty of hardware into its shells – especially more when it measures up at 0.39" thick. The all black plastic construction would naturally aid it in becoming extremely mobile due to its under 1 pound weight, but it doesn't necessarily compromise on durability and construction. It's not to say that the PlayBook is the sexiest looking tablet out there, however, we can agree that it's placed somewhere in the upper echelon of things.
Quickly gazing at the PlayBook, we were mesmerized by its beautiful and sharp looking
7" capacitive touchscreen
which manages to provide a high resolution of 1024 x 600 pixels. From browsing the web to watching high definition videos in full fidelity, its display is more than equipped in handling the normal set of tasks by offering exceptional viewing angles and glaring luminance. Moreover, it's quite responsive to the touch and we didn't have any problems in navigating around its platform.
Aside from checking out all the visual stuff on the surface, the BlackBerry PlayBook doesn't skimp out on specs – which is impressive since RIM managed to throw in plenty of goodies under the hood. In addition to its
dual-core 1GHz processor
being the heart and soul of the PlayBook, we find a multitude of other respectable features to make us ride in anticipation for its eventual arrival – such as a 5-megapixel rear camera, 3-megapixel front facing camera for video chat, 1GB of RAM, and Wi-Fi.
Of all the things that impressed us, nothing did it more, or even better, than the totally
new tablet platform from QNX
. Compared to most of the other tablets we checked out, the BlackBerry PlayBook was live and in usable form – unlike some of the other tablets on hand, namely Android ones, that were merely in prototype form. Naturally, the first thing that popped into our mind as we navigated around the platform was its close similarity to Palm's webOS platform – which is evident by its heavy implementation of gestures. However, it literally feels like webOS on steroids because it offers true multi-tasking. After loading a couple of movies, our web site with Flash content, and even a demo of a game, the windows for each open application continued to run in their current state. Impressive? Most definitely! Practical in moving between your applications? Oh yeah! Everything seems to move at a blistering pace to make it an ideal candidate for those who breath productivity to the max.
If we can sum up our initial look at the BlackBerry PlayBook, we have to admit that it was undeniably one of the more satisfying devices we checked out at CES thus far. Design is top notch, while its live form was more than appreciated since many others weren't quite as ready. However, the only concern that comes into play is the kind of battery life it'll provide users. None of the Blackberry reps wanted to comment on potential battery level; except for the mere notion that the units on hand weren't quite optimized for battery consumption. Nevertheless, there's plenty to be excited as the PlayBook definitely sticks out highly on our list from CES.