Motorola XOOM Hands-on
11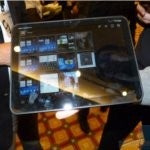 There has been a lot of high expectations regarding Android powered tablets, especially after a holiday season that was painstakingly lacking variety, but that's all looking to change with the
Motorola XOOM
. Already being positioned to be one of the biggest and baddest things to grace the tablet market, there's a lot at stake for this feature-filled slate. Naturally, being the first to sport the tablet-optimized
Android 3.0 Honeycomb
operating system, there's a lot of expectations riding on the back of this device as it aims to deliver an experience that's fitting for its up-and-coming product category.
When it comes to specs, there's nothing that the Motorola XOOM doesn't have, since it's filled to the brim with impressive hardware that's sure to make your drool from your mouth. Sizing up with a
10.1"
capacitive touchscreen with a generous
resolution of 1280 x 800 pixels
, almost every nook and cranny of its real estate is filled with a fair amount of detail. However, there's no denying that it's extremely reflective, and can become somewhat of a hindrance for others. Regardless, there's enough beauty and luminance from what we saw, to still make your jaw drop.
Additionally, it's packing serious heat under the hood with its
dual-core ARM based Tegra 2 chipset
that
enables it to play
full 1080p HD videos. Moreover, it features a 5-megapixel camera for all your HD recording needs, and a front facing one to get your fix of video calling, which will be a built-in feature via Google's Gtalk in Android Honeycomb. Finally, even though it's going to be packing a 3G radio from the onset, it's going
to be upgradeable
, so that you can experience
Verizon's LTE network
. However, it's not something user-replaceable and will require you to visit a store to get it upgraded.
Specs aside, the design of the Motorola XOOM isn't anything too flashy as it mainly relies on that all too distinguishable outlines of any other tablets out there on the market. Though, we're quite pleased with the overall build quality, as it feels quite solid all around to provide you that sense of durability. Still, the star of the show has to be none other than
Android 3.0 Honeycomb
that it'll be flaunting when it's released.
Not surprisingly, the unit that we checked out wasn't yet the full-blown Honeycomb experience we were expecting to see, since that it only played videos to show us the upcoming functionality of the platform. So in the end, even with impressive specs bringing the Motorola XOOM to life, it's going to be intriguing to see the final product with a completely polished Android 3.0 Honeycomb experience. It shouldn't be long now since it's slated for a Q1 release!