In the U.S., AI assistant Alexa is launched on the HTC U11
0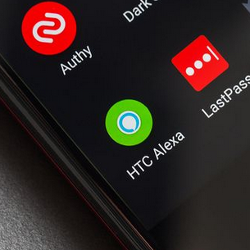 Starting today, AI assistant Alexa is available to those in the U.S. sporting the
HTC U11
. Many of the things that Alexa does on the handset will match what it capable of doing on the Amazon Echo smart speaker, such as pass along the weather, sports scores, a news digest and more. On the
U11
, Alexa can also order from Amazon, set alarms and timers, and turn on and off smart appliances. There are some things that Alexa does on the Echo that it won't do on the U11 such as making and taking phone calls, and disseminating text messages.
If you ask Alexa to do something that is outside of its capabilities, you will be referred to the Alexa App that Echo users are familiar with, to retrieve information. Alexa can be opened by calling out her name, followed by a command. After the Alexa name is spoken, the bottom of the display shows a blue glowing ring that is similar to the glowing ring that appears on the Echo when Alexa is requested. Another way to open Alexa on the phone is through EdgeSense. Squeezing the two sides of the phone together will have the personal assistant at your beck and call.
With Alexa, the HTC U11 will have three different personal assistants including Alexa,
Google Assistant
and the Sense Companion. HTC U11 models in the U.S. are receiving the update today from the Google Play Store. Those in the U.K. and Germany toting the HTC U11 will receive the update some time during the summer.
source: HTC
Alexa On Your Phone Is Now Hands-Free: HTC U11 Takes Amazon Alexa On the Go
Just say, "Alexa:" The HTC U11 and HTC Alexa app deliver the world's first always-ready, hands-free access to Amazon Alexa on a phone
SEATTLE – July 17, 2017 – HTC today announced the immediate availability of its HTC Alexa app in the US, taking the powerful and intuitive Amazon Alexa cloud-based voice service on the go with the HTC U11 phone. Whether you're at work, in the park, or at the beach, you can take HTC Alexa with you to access the very best of Amazon Alexa hands-free from the convenience of your phone. The HTC Alexa app is available to download today for HTC U11 owners in the US via the Google Play store.
The HTC U11 with HTC Alexa is the world's first phone to feature always-ready, hands-free access to Amazon Alexa. This means that when you can ask questions such as "Alexa, what's the weather today?" or "Alexa, turn on my living room lights" and have Alexa respond to your needs anywhere and anytime once your phone is unlocked. With HTC
Edge
Sense, you can also squeeze your phone to invoke HTC Alexa, so you can choose the method that's easiest and most intuitive for you.
With the HTC Alexa app, you can: listen to Amazon Music & Audible; receive weather and flash news briefings; manage shopping and to do lists and even your home with the increasing array of smart home products; and of course, there's the 15,000-plus skills in the Alexa Skills Store for even more capabilities. And, as Amazon Alexa is powered in the cloud, it is always getting smarter with new features, and skills.
"Now, HTC U11 customers will have Alexa with them at home and on the go," said Steve Rabuchin, VP Amazon Alexa. "Customers on the move can ask Alexa on the U11 for music and news, to cool their smart house on their way home from work, to check if they locked their front door, and to access thousands of other Alexa skills. We think customers will love the convenience of having hands-free Alexa capabilities wherever they go."
Since its announcement May 16th, HTC U11 has already been garnering praise from across the globe with 5-star reviews and Editor's Choice awards. Inspired by the power of touch and the brilliance in "U," HTC U11 delivers our most advanced smartphone ever including HTC Edge Sense, the next dimension in touch interaction with your phone; Liquid Surface, a stunning, unique design that reflects you; HTC USonic, our most advanced headset ever built for personal audio, now including Active Noise Cancellation; amazing cameras with the highest independent rating ever awarded to a smartphone camera by DxOMark; and now HTC Alexa alongside HTC Sense Companion and Google Assistant for a smarter, more helpful
smartphone.
HTC U11 also features the Qualcomm® Snapdragon™ 835 Mobile Platform with an octacore processor for breakthrough speeds, jaw-dropping graphics, impressively smooth performance and outstanding battery life. For a complete list of HTC U11's specifications, go here [link].
The HTC U11 is available now in Sapphire Blue, Brilliant Black, Amazing Silver, and Solar Red*. It can be purchased in an unlocked version at amazon.com and htc.com, in addition to a Sprint version available at sprint.com, 1-800-SPRINT1 and in Sprint retail stores. The HTC Alexa App can be found in the Google Play store, available for download in the US today and coming to the UK in July and Germany in August.
Note to Editors:
* Availability of colors varies. Check online or local retail stores for details.
About HTC
HTC Corporation aims to bring brilliance to life. As a global innovator in smart mobile devices and technology, HTC has produced award-winning products and industry firsts since its inception in 1997, including the critically acclaimed HTC One and Desire lines of smartphones. The pursuit of brilliance is at the heart of everything we do, inspiring best-in-class design and game-changing mobile and virtual reality experiences for consumers around the world. HTC is listed on the Taiwan Stock Exchange (TWSE: 2498). www.htc.com