Honor 8 Pro goes West: VR-ready elegance with best-in-class battery
23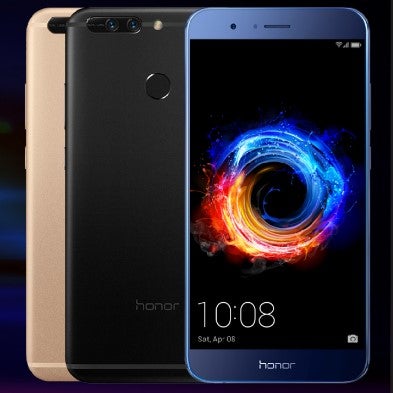 Just as rumored
,
the
Honor V9
has been officially brought from China to the European shores as the Honor 8 Pro, making it is one of the best phablets you'll be able to order there this season, at a pretty reasonable price of 549 EUR for the 6 GB model to boot. For fans of higher-end handsets, the new phone is stuffed to the gills with contemporary tech, but perhaps its biggest advantage is the gargantuan 4000 mAh battery that fits in a 7mm thin body that charges fully in less than two hours. What else?
For starters, the Honor 8 Pro is armed with the latest Kirin 960 processor, which is accompanied by blazing Mali-G71 graphics. Manufactured by honor's parent company Huawei, it's the same octa-core chipset found within the
Mate 9
which,
as we noted in our review
, is plenty powerful, with the latest Cortex-A73 top-shelf cores. Furthermore, on offer are no less than 6 GB of LPDDR4 RAM, and 64 GB of expandable storage, so honor is bringing its A-game to Europe.
The display is a 5.7-inch TFT LCD effort, boasting a QHD (1440 x 2560) resolution. Also adorning the front of the device is an 8-megapixel selfie camera, while the dual 12-megapixel main shooters tout f /2.2 aperture, dual-LED flash, and 4K video recording an 30fps. Interestingly, Honor doesn't mention a 3D-modeling laser focus feature here, as it did with the V9, offering users a chance to 3D-print stuff they've captured. Instead, Honor touts "
fluid VR streaming
" for the 8 Pro, and even includes a bundled cardboard viewer and pre-installed Jaunt VR app containing a wealth of video content. Users will also be able to dive into the world of Galaxy on Fire 3, the first 3D game running on the Vulkan interface, all for free. Good guy Honor.

4k battery, 7mm
The Honor 8 Pro gets a sizable 4000 mAh battery, which is the same capacity as the Mate 9's juice pack. We managed to get 12 hours' non-stop usage out of the Mate 9 in our battery benchmarks, which saw it
comfortably outlast
the
iPhone 7 Plus
, or the
Galaxy S7 edge
. While the Honor 8 Pro's QHD resolution display is likely to eke away battery at a quicker rate than the FHD Mate 9, Honor still touts two full days of battery life out of the pack, or 1.44 days with "heavy usage," whatever that entails. Being able to charge the battery completely in an hour and fifty minutes, however, is an amazing feat at this capacity.
Clearing up some of the smaller matters, the dual-SIM device includes a fingerprint scanner, USB Type-C and of course, LTE. Measuring in at 157 x 77.5 x 6.97 mm and weighing 184 grams, the Honor 8 Pro ships with Huawei's newest EMUI 5.1 atop the Android 7.0 Nougat firmware. EMUI 5.1 introduces Highlights, a new feature co-developed with Go Pro that intelligently organizes photos by category and automatically generates video stories that are easily customizable.
The Honor 8 Pro in black, blue and gold will be available for purchase from April 5 onwards in select markets, including the United Kingdom, France, Germany, Italy, Spain and Switzerland, for 549 EUR or £474. The gifts include your choice of a 128 GB microSD card or a 10,000 mAh Huawei power bank, along with some common niceties like a selfie stick tripod. Any takers?