Huawei Mate 9 Review
36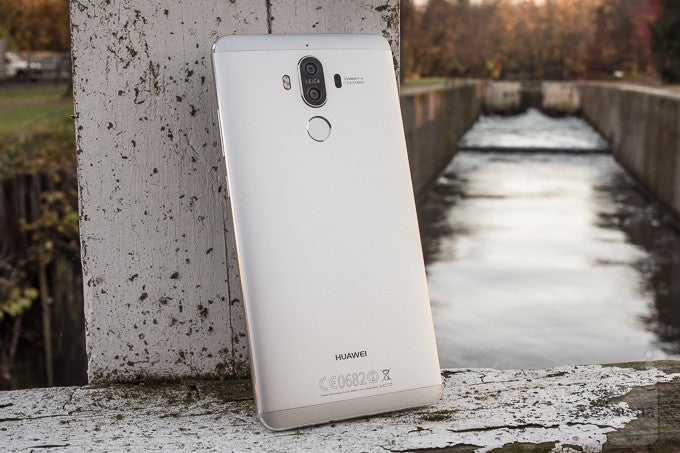 You can now read:
Introduction
For a certain group of smartphone users, bigger means better, and they're going to want the largest, most feature-packed handsets they can get – while still small enough to fit in their pockets. And though manufacturers have been eager to deliver big-screen phone after big-screen phone, right now that market's in a bit of an upset after the spectacular crashing and burning (pun intended) of the
Samsung Galaxy Note 7
.
While the Note 7's early retirement doesn't leave us with an all-out vacuum, it does take away one of the most popular players in the big-screen-phone space. There's still the
Galaxy S7 edge
, granted, but it's a tricky phone to recommend now, with a follow-up presumably waiting for us in the early months of 2017.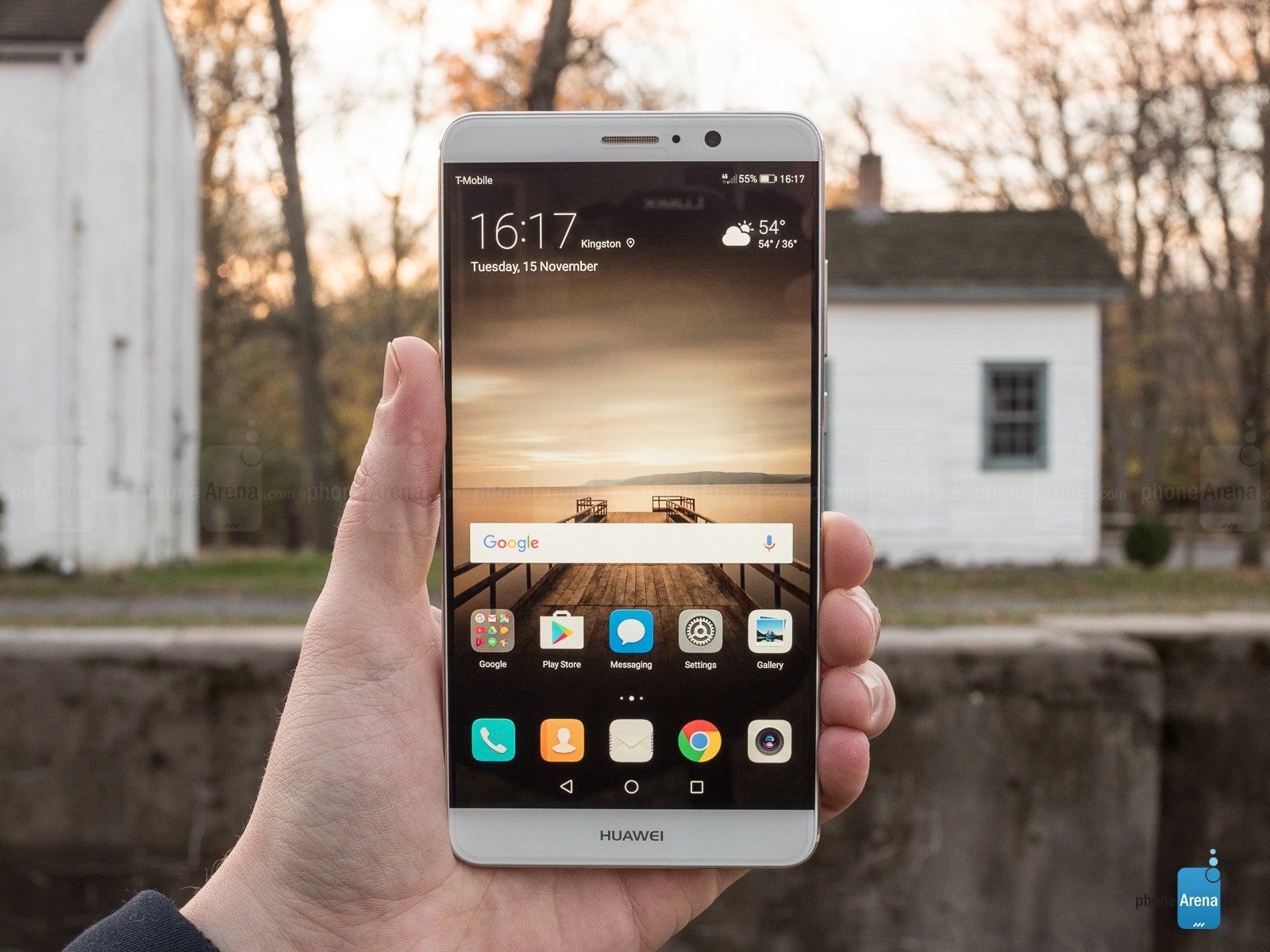 So what does that leave us with? The 5.5-inch
iPhone 7 Plus
, absolutely, as well as new contenders like the
Google Pixel XL
, with another 5.5-inch screen. And if you want to go a little bigger still, there's always the 5.7-inch
LG V20
.
Those are all good options, but what if you want a phone with an even bigger display, one that makes you feel like you've got a full theater experience in the palm of your hand, or one large enough to make split-screen multitasking a joy?
Huawei may have just the phone for you, with the launch of the 5.9-inch
Mate 9
. It manages to squeeze in a screen that big without being ridiculously oversized itself, and runs some of the latest silicon to hit the mobile market. Should this one be on your short list of phablets to consider? Let's take a look, but do note that Huawei's Mate 9 is to be available across a number of European and Asian markets only. There has been word that the company might eventually bring it to the US, but we wouldn't hurry to get our hopes up.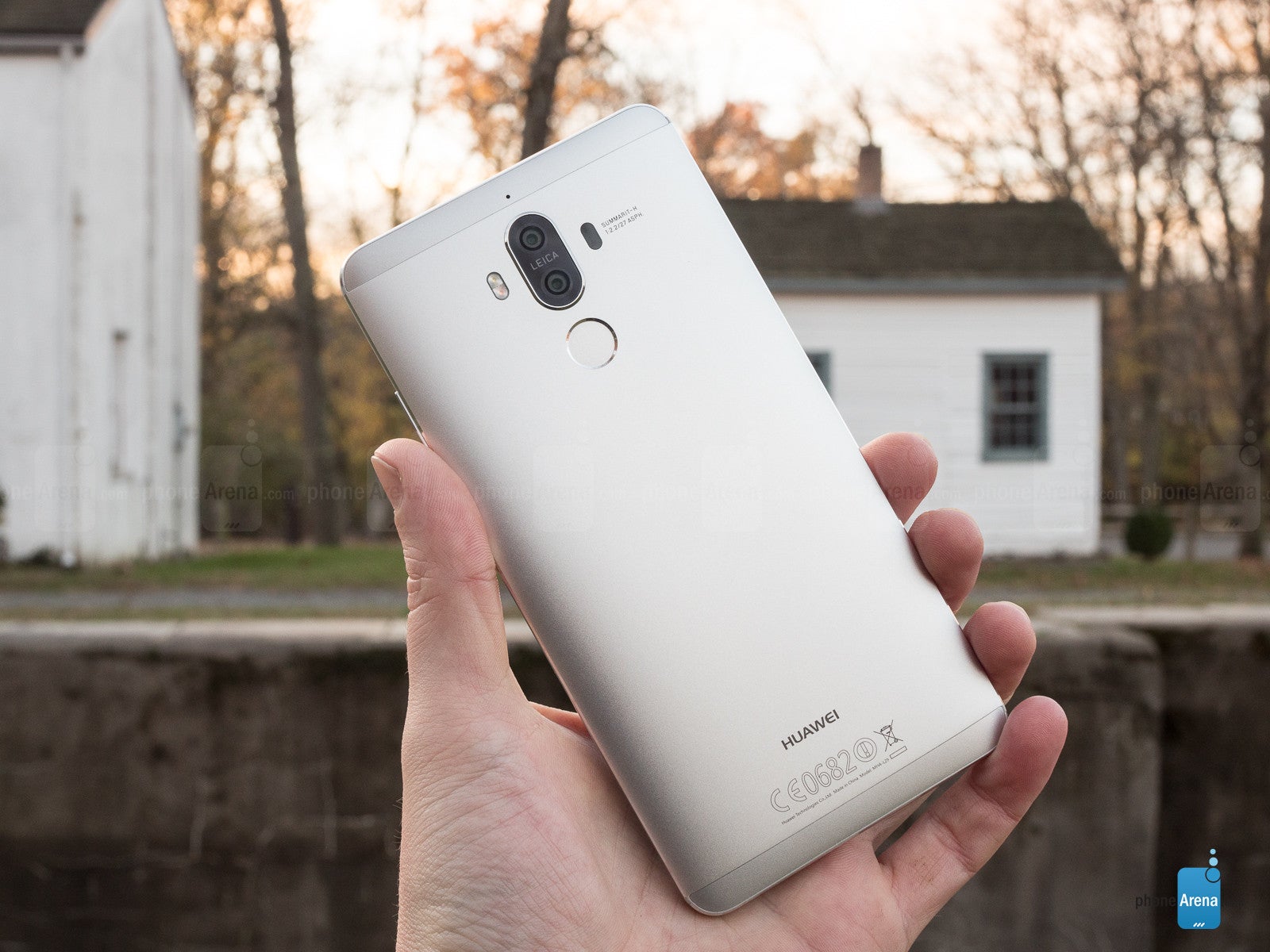 In the box:
Huawei Mate 9
Earbuds
Case
USB Type-C cable
SuperCharge adapter
USB Type-C to micro adapter
SIM tool
Quick-start guide
Design
Huawei shows us that a big screen doesn't necessarily demand a giant phone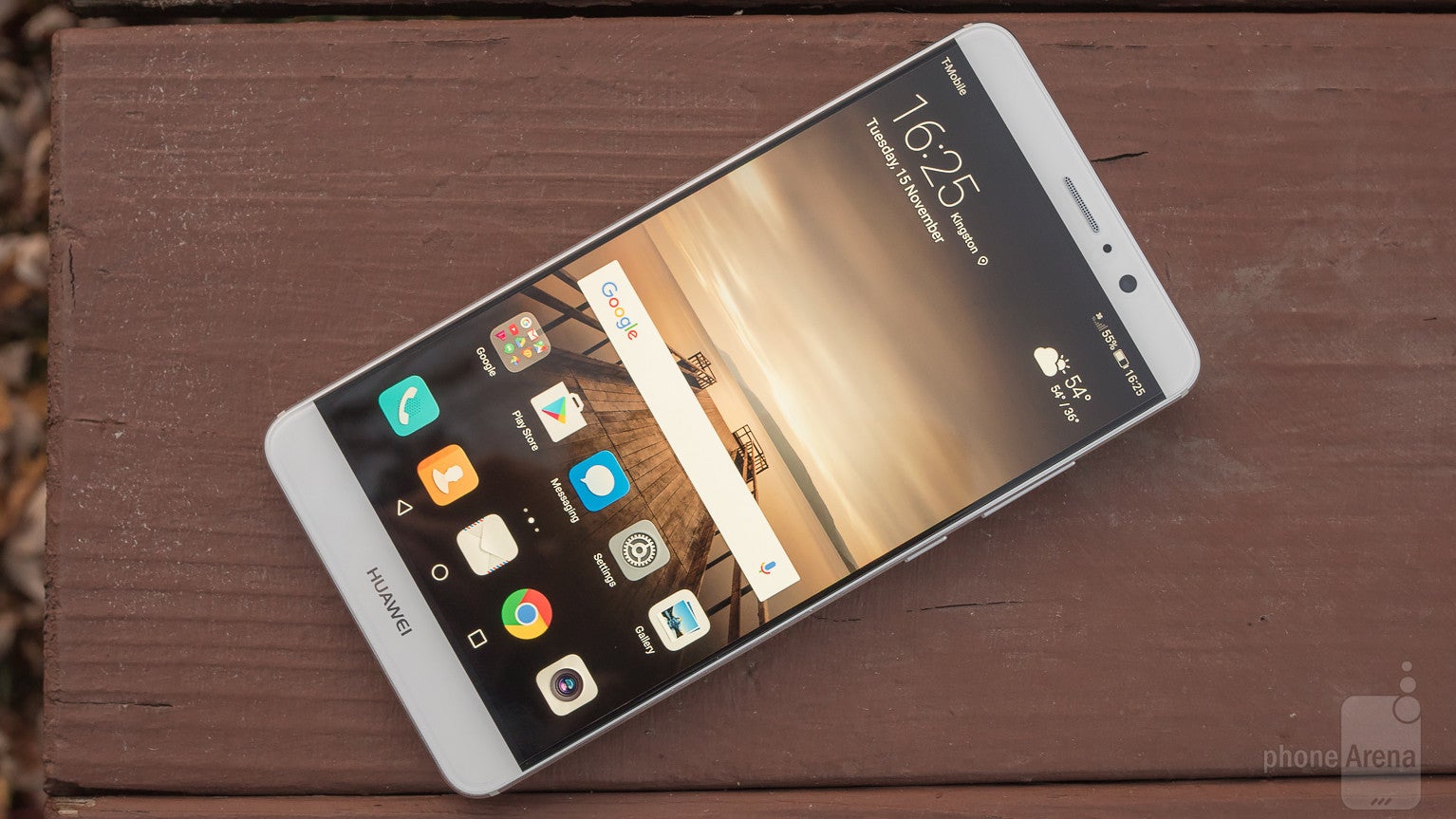 The way a phone is built is an important enough issue for smaller handsets, but when we're talking about those on the upper echelon of the phablet bracket, that consideration's all the more critical; how do you give users a big-screen phone experience that's still compact and practical enough to be carried around as a daily driver?
With the Mate 9, Huawei answers that challenge with a slim, solidly built metal frame and a screen bordered by some daringly thin side bezels.
The handset's a wee bit smaller than last year's
Mate 8
, measuring in at 156.9mm tall, 78.9mm wide, and 7.9mm deep. All those measurements are within a millimeter or two of the iPhone 7 Plus (158.2 x 77.9 x 7.3mm), yet the display on the Mate 9 has a 15% greater surface area. Unlike Apple's phone, though, Huawei finds space for an analog headphone jack up top.
Continuing our way around the handset, we've got an infrared transceiver also on the top edge for controlling your appliances, volume rocker and power button on the right side, speaker grille and USB Type-C jack on the bottom, and the hybrid dual-SIM/microSD tray on the left edge.
The body itself has a bit of a curve to it around the edges, though bevels mark the transition to the back and front. The result isn't quite as pleasing to hold as the Pixel XL or iPhone 7 Plus, but it does manage to look quite nice – and maybe more importantly, thin.
Dead-center on the phone's back we find its dual main camera, perched above the handset's fingerprint scanner. While there is a slight camera bump there, it's incredibly minor, and doesn't really detract from the Mate 9's lines.
Display
Big and bright is a winning combination, though the lack of quad HD is curious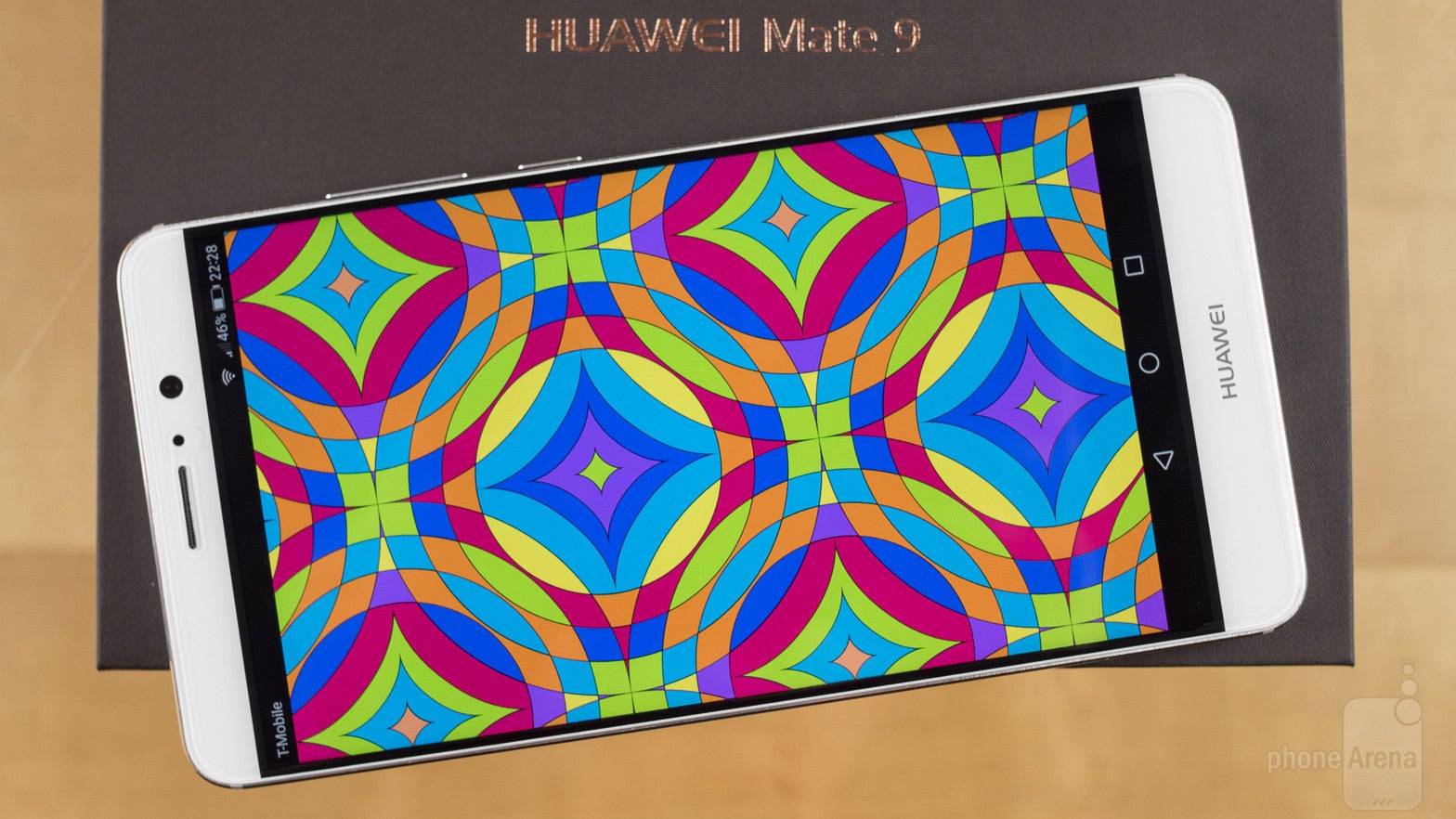 The Huawei Mate 9 is rocking a 5.9-inch screen, making it among the biggest of the mainstream phablets out there. While that's a step down from the Mate 8's 6-inch display, it's still larger than you're going to find from a lot of Huawei's competition.
Its picture looks pretty good, and offers one of the highest-brightness outputs we've seen all year – the iPhone 7 models and the Moto G4s come in at right about the same level, but you won't find much brighter – and that's a big plus for outdoor usability.
But while it's big and bright, we still have a couple issues with the Mate 9's screen. Maybe the most significant problem is that it's not particularly high-res, at 1080 x 1920. A full-HD panel like that looks great on a five-incher, and is acceptable on a 5.5-inch model, but as we're brushing up against the six-inch mark, we really start to crave quad HD – and both the smaller LG V20 and Google Pixel XL do indeed offer such a resolution.
This situation is made all the more frustrating by knowing that Huawei's giving its special Porsche Design Edition Mate 9 a 1440 x 2560-resolution screen, and that one's only a 5.5-incher. That the standard Mate 9 is both larger and lower-res is disappointing.
The Mate 9's screen also suffers from some color accuracy issues, with the sort of over-saturation we normally expect from AMOLED panels. The good news is that EMIU 5.0 allows you to adjust the display's color temperature and tweak its output to your liking. It would just be nicer if it were a little more accurate right out of the box.
The phone we tested came fitted with a protective screen cover. While we appreciate the effort to keep the handset looking in tip-top shape, the protector has a bit of a sharp-feeling edge to it that takes away from the Mate 9's otherwise positive tactile layout.
Display measurements and quality