Have $1,450 to spare? You can now buy a 24k gold plated Samsung Galaxy Note5
30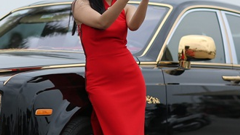 If you like Samsung's Galaxy Note5,but you don't want to buy the same models as everyone else, you can now get thehandset dressed in 24k gold.


Vietnam-based Karalux, a company thatpreviously released gold-plated versions of the Galaxy S6 and S6 edge, recently startedselling a 24k gold-plated Galaxy Note5. Obviously, the extravagant Note5 isquite expensive: you can buy it via eBay for $1,450 (check out the first source link below).
In order to plate it in 24k gold, Karaluxdisassembles each Galaxy Note5 unit, and has to follow 10 different stepsbefore the process is complete. Interestingly, it's been discovered that theframe of the Note5 is made out of aluminum 7000 series - a very tough alloythat will likely also be used by Apple to manufacture the iPhone 6s and iPhone6s Plus.
Needless to say, other than the moreexpensive coating, the 24k gold Samsung Galaxy Note5 isn't different from the regularversion of the device (which we already reviewed - so you can easily find outmore about it). So, who's planning to spend $1,450 on a golden Note5?

Invalid image meta
sources: eBay, Mavang via GSM Arena