Will the iPhone 6s bend? This video gives us an early answer
56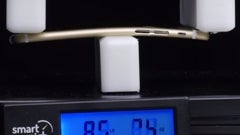 While the much discussed iPhone 6 bending issue may have not affected a significant number of handsets, it was certainly something that Apple wished it could have avoided. Thus, according to various rumors,
Apple has strengthen
the aluminum alloy that's going to be used for the upcoming
iPhone 6s
and
iPhone 6s Plus
, both of which should be announced in September.
It's said that the new iPhones are made out of
7000 series aluminum
- this is significantly tougher than the 6063 aluminum alloy used for last year's iPhones.
Lewis from Unbox Therapy (who was the first to reveal how easy the iPhone 6 bends) managed to obtain a rear shell that reportedly belongs to the iPhone 6s, and put it through a fairly scientific bend test. What's more, he also analyzed the elemental make-up of the new rear shell, seemingly confirming that it is indeed 7000 series aluminum - which, besides aluminum, contains a significant percentage of zinc.
As you'll see in the video below, the iPhone 6s shell was tested alongside a shell from the 2014 iPhone 6. Apparently, the old shell bends at about 30 pounds (13 kg) of force, while the iPhone 6s shell is at least two times tougher - most likely meaning that the iPhone 6s will be much harder to bend in real life. That's great news, right?