HTC Desire EYE size comparison: the gargantuan front-facing camera takes its toll
5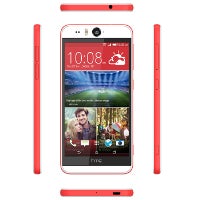 At this point, we can say that
HTC's foray into "selfie-centric" smartphones with the top-end
HTC Desire EYE
is pretty successful, at least on paper. HTC's newest device comes hot out of the oven with a sizeable 13MP front-facing shooter, endowed with autofocus, an f/2.2 sensor aperture, a 22mm wide-angle lens, and a dual LED flash, not mentioning the plethora of software features that will help you snap a selfie as easy as pie. Unfortunately, such a large sensor at the top front of the handset has had its grave toll on its overall size, making it larger than devices with the same display size of 5.2 inches.
Then again, none of HTC Desire EYE's direct competitors come with front-facing cameras that can stand up to its 13MP one, not to mention that the Desire EYE can successfully rival most of the current flagships specs-wise. In the size department, however, there are certain troubles in HTC's paradise. Although 5.2-inch devices are already common (though this might quickly change if the next wave of flagships grows in size), the Desire EYE is as tall as a 5.7"
Samsung Galaxy Note 3
and taller than the 5"
HTC One (M8)
, the 5.2"
Sony Xperia Z3
, and even the 5.5"
LG G3
! Only the
Apple iPhone 6 Plus
and the
Samsung Galaxy Note 4
are slightly taller than the Desire EYE, and even there it's a close call.
Check out the HTC Desire EYE size comparison below. Is the large front-facing camera a sound argument for the not-so-compact size?