HTC CEO Peter Chou hands over some of his duties to chairwoman Cher Wang
22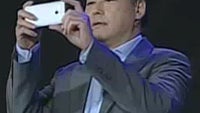 According to a published report on Monday, HTC CEO Peter Chou is now focusing on innovation and product development as the
HTC One
failed to live up to its early promise. Company chairwoman and co-founder Cher Wang will add sales, marketing and supplier relationships to her job description. In addition, another HTC co-founder, H.T. Chou, will return to the Taiwan based company. He will head up unspecified phone projects.
HTC had plenty of hope that its HTC One would lead it back among the top five smartphone manufacturers globally. The company has fallen out of the top ten, according to Gartner, and last quarter
it reported its first operating loss
. The company has had so much faith in the award winning design of the HTC One with its unibody aluminum body, BoomSound front drilled stereo speakers and unique look that it produced both a mini version of the phone that has already launched, and
a phablet sized model that has just been unveiled
.
Besides slowing sales of the HTC One, HTC has been out marketed by Apple and Samsung. HTC made more of a mess for itself when it
signed movie star Robert Downey Jr. to a two-year contract
believed to be worth $12 million. But the first series of ads were unfocused and did nothing to generate interest in the HTC One.
source:
Reuters