HTC One max official: 6" phablet comes with Fingerprint Scan and Sense 5.5
47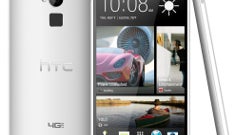 Rejoice, big screen lovers, as the
HTC One Max
- the company's first phablet - is finally here to bring its take on the whole huge phone conundrum with everything you know and love about the One line of HTC, plus some exclusive takes like the Fingerprint Scan feature.
Design
Clad in an aluminum body, the One max (yep, it's not titled with a capital letter) looks like a natural addition to the
One
and
One mini
- three's a family, and now HTC has most every market niche covered. It's not a unibody design, though, so thankfully you can pry off the battery cover and add a microSD card for more storage to load all those movies you are going to carry. The battery compartment is sealed, but it's a 3300 mAh unit, so no sweat, at least until we do the first battery tests.
The phablet is not for the faint of heart, though, as with its 164.5 x 82.5 x 10.29 mm dimensions and 217g of weight, it is one "supersized" handset, as HTC itself is calling it in the description.
Fingerprint Scan
You get your excellent BoomSound speakers at the front, but the back strays away from the One portfolio design paradigm, adding a flat and square fingerprint scanner, which can unlock your handset or start up to three favorite applications immediately upon touching it with three different fingerprints - a pretty svelte idea.


Specs
Just as speculated, the One max is powered by a 1.7 GHz quad-core Snapdragon 600 processor. Granted, it's not 800, but has plenty of oomph to run everything you throw at it on that big, vibrant 5.9" Super LCD3 display. As far as we know HTC, the panel should be a thing of beauty, both in terms of peak brightness, and in terms of contrast, not to mention that HTC always goes through the trouble to calibrate its color representation almost as perfectly as Apple does. The screen is, naturally, Full HD, with 1080x1920 pixels of resolution, which brings about the excellent 367ppi pixel density.
The rest of the specs are top-notch, with 2 GB of RAM, 32 GB of internal memory plus the memory slot we mentioned, and UltraPixel camera with f/2.0 aperture on the back plus a 2.1 MP frontal shooter with wide 88 degree viewing angle. A 3300 mAh battery rounds up one excellent phablet offer.
Software
The new HTC Sense 5.5 that comes with the One max brings some much needed improvements, some of which we already saw leaked, namely the ability to turn the BlinkFeed social aggregator on and off. Not only did HTC listen to its customers, but it also added more functionality to BlinkFeed, making it harder to look for anything else in the Play Store. It's now more social, folding Instagram and Google+ feeds, plus more content providers and topic categories have been added. In addition, you can download up to 120 articles for offline reading later on, when you don't have Internet access, or don't want to weigh on your data plan. The Video Highlights option now can be any length you want, making a complete movie out of your amateur footage by adding a soundtrack and custom theme of your choosing.
The HTC One max will be available for immediate release globally, while Verizon and Sprint in the US will get it for the "holiday season" in Glacial Silver, which likely means a few weeks from now. What do you think about HTC's first phablet effort, sounds good on paper?