Samsung Galaxy S8 series to max out at 6 GB RAM & 256 GB storage
37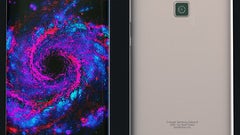 With the year drawing to a close, techies far and wide are looking ahead to what 2017 might offer on the gadget front. In-keeping with the narrative, Samsung is expected to set the tone early on with the Galaxy S8 series. Always a pivotal release, there's particular onus on The Next Galaxy to hit the heights after the
Note 7
's well-documented lows. A new tidbit suggests that the
Galaxy S8
/
S8 edge
won't be scrimping, with 6 gigs of RAM and a whopping 256 GB of on-board ROM.
The current crop of the
Galaxy S7
and
S7 edge
are generally laudable but the 32 GB of internal storage seems nonsensically low -- even if expansion via microSD adds potential legroom. According to a Weibo source, the S8 will offer up to 256 GB of on-board storage, though it remains to be seen whether the microSD card option will also be retained.
If it also retains the microSD slot, the Galaxy S8 could be a data hoarder's dream
Samsung's decision to nix expandable storage with the
Galaxy S6 series
was not viewed favorably by many enthusiasts, and this year's rebirth of the Galaxy S microSD slot has come at the expense of native real estate. A 256-gig option would probably be enough to satisfy most power users should Sammy once again decide to forgo expandability. Then again, we're pretty sure that some of our readers would jump at the chance to stretch a 256 GB model
even
further.
In addition, the leak also suggests the S8 could arrive with 6 GB of RAM. Sounds great and all, but more RAM is only useful if it's efficiently applied. Though Samsung will be trying harder than usual to impress with its forthcoming gadget(s), here's hoping any RAM enhancement translates to real-world performance, rather than mere overkill to inflate the S8's market appeal.
Finally, the leakster reiterates the notion of two Galaxy S8 models, which is not particularly surprising given the current S7 duo. Recently, we've heard that the S8 handsets will be
among the first to launch with Qualcomm's Snapdragon 835
. With the supposed inclusion of
pressure-sensitive display
tech to accompany the traditional camera improvements and other tweaks, the S8 series is shaping up to be a real winner.
What would you most like to see from Samsung's next big thing? Let us know in the comments.