Samsung Galaxy S6 vs Samsung Galaxy S6 edge
23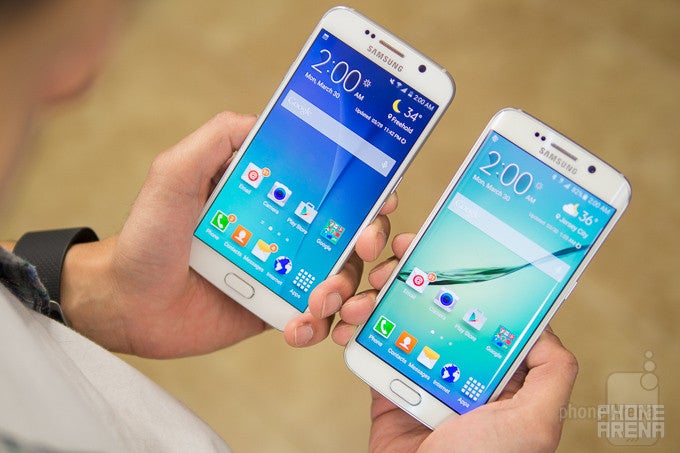 Introduction
Last year, Samsung did something memorable with the Note line. For the first time ever, it split the new generation into two separate entities, two new Note phones. One was the regular Note 4 – the standard, feature-packed upgrade to the Note 3 that all of us expected. The other, however, managed to take us by surprise. It was another Note, very similar to the Note 4, yet markedly unique and way more futuristic. That second handset was called Galaxy Note Edge, and its main standout characteristic was that the right-hand edge of its sizable screen was curved inwards towards the back of the body. Samsung made sure that this so-called Edge screen served some practical purpose, but it was more or less an experiment, devised to find out how the consumer is going to react to Samsung's promising new technology.
It turns out the reaction hasn't been too negative, seeing that Samsung is now ready to repeat the same process with its flagship smartphone line, the Galaxy S. Replacing last year's Galaxy S5, here come the
Galaxy S6
and
Galaxy S6 edge
– a flagship duo, which once again shows that Samsung — as hopeful as it is about its high-tech, curved displays — is still reluctant to bet on them as its exclusive form factor. This year, consumers will not only need to decide what brand they want their new smartphone to be, but, should they go for Samsung, they'll also need to figure out which of the two options is worthier of their hard-earned cash. But have no worries – that's why we're here: to help you decide if you should put your hands on the sexy curves of the S6 edge, or you should stay conservative and opt for the impressively flat S6.
Design
The bodies of the Samsung Galaxy S6 and S6 edge are built around the same unmistakably Samsung-ish concept, but the curved screen of the Galaxy S6 edge gives it a considerably differentiated look and feel. While the S6 has the appearance of a leaner, more elegant S5, the S6 edge looks like a phone from the future, thanks to its screen and front glass, which are both slightly curved towards the edges (unlike the Note Edge, only one edge of which had the curved treatment). This 'dual-curved' design is undeniably flashy, but it also makes the phone more uncomfortable to hold, due to the thin side frame proving to be a bit too sharp. Then again, we can't think of too many instances where "sexy" and "comfort" have played well together. On the other hand, the more conventional looking Galaxy S6 has better, more relaxed in-hand feel.
Material-wise, Samsung has finally stepped its game up, avoiding any excessive use of plastic and instead sculpting the duo from glass and metal. The phones feel decidedly more premium compared to the S5 or Note 4. The glass backs are nice and grippy, but they do have a major drawback – they get grotesquely messy, covered in fingerprints, as soon as you pick the phones up. Depending on the color variant that you've chosen, this effect may be a bit more or less apparent.
As far as dimensions go, the Samsung Galaxy S6 and S6 edge both qualify as relatively compact by today's standards. The S6 edge is the slightly smaller of the two in terms of length (5.59" vs 5.65") and width (2.76" vs 2.78"), but it's also ever so slightly thicker with its 7 mm, compared to the S6's 6.8 mm. Both are also sufficiently lightweight: 4.66 oz (132 g) for the S6 edge, and 4.87 oz (138 g) for the S6.
So, no major differences between the two when it comes to dimensions, though, as we mentioned earlier, the Galaxy S6 is considerably more comfortable to hold than the S6 edge, due to the latter's sharp side edges. Sadly, such lean profiles obviously have a cost. Neither of Samsung's new flagships possesses any of the water- or dust-proof specifics that the Galaxy S5 had. Design ambition eschewed other practical features too – both devices lack removable batteries and omit microSD card slots for memory expansion.
Display
For the most part, screen characteristics are the same for the Samsung Galaxy S6 and S6 edge. That is, both of them measure 5.1 inches by diagonal and have sky-high resolutions of 1440 x 2560 pixels. This is great news, unless you prefer larger screens.
The displays on the Galaxy S6 & S6 edge boast exemplary color accuracy, with the former having a color temperature of 6584K, and the latter hitting around 6800K. Both values are very close to the reference color temperature of 6500K, where white balance looks just right - neither too warm, nor too cold, provided that there isn't excessive or insufficient green. But obviously, when it comes down to the minute differences that entertain keen eyes, the Galaxy S6 wins over its curved screen sibling. Although its colors are pleasing as it is, the Galaxy S6 edge's whites appear ever so slightly blueish. Then again, Samsung knows it can't possibly please everyone, and that forcing pinpoint-accurate colors on users who like sweet, if artificial shades, isn't a winning move. So both the GS6 & GS6 edge graciously let you choose between multiple display options - 'Basic' mode for types like us who favor accuracy, or any of the others for more glamorous colors in games, multimedia, and general use.
Moving on to another important factor, brightness levels, the Galaxy S6 is adorned with the brightest Super AMOLED display out there, capable of outputting 563 nits of maximum brightness. That's enough for comfortable use under direct sunlight, and this happily applies to the Galaxy S6 edge, which hits 553 nits. On the other side of the scale, the Galaxy S6 gives a fine example of minimum brightness output with just 2 nits of illumination, making it a display suitable for night reading. The GS6 edge is even better in this regard, with just 1 nit of illumination.
Gamma is another important metric for display quality, as it shows whether a screen provides an adequate amount of luminance while displaying various colors and shades. With 2.2 being the reference value, the GS6 hits 2.11, while the GS6 edge hits a perfect 2.2. Both screens are all-around excellent here.
Viewing angles determine how well a screen's image quality holds up when it's being viewed at an angle. In our test, we hold devices at a 45-degree angle, and measure the percentage by which brightness levels, color temperature, gamma, and Delta E values deviate from the original. It turns out that the Galaxy S6 generally holds up better, deviating by lesser percentages in the aforementioned aspects.
As a whole, the display on the Galaxy S6 is a bit better than the GS6 edge's in terms of color reproduction, maximum brightness, and viewing angles - but certainly not in amounts that should impact your purchase preference. The major factor in deciding between the two is whether you'll develop an acquired taste for curved screens upon trying out the GS 6 edge - or not.
Display measurements and quality
Recommended Stories