From now through May 14th, order a OnePlus 3T and get 30% off priority shipping
2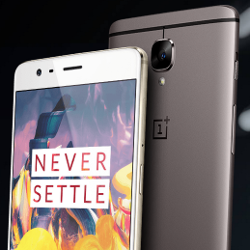 Looking to save a little money and grab a great phone? A tweet disseminated by OnePlus on Monday revealed that by using the checkout code "FASTLIKEOP3T," priority shipping costs would be discounted by 30% on orders for the
OnePlus 3T
. The deal runs from now through May 14th, and will help OnePlus reduce its inventory of
OnePlus 3T
units prior to the unveiling and eventual launch of the
OnePlus 5
.
Earlier on Monday,
we passed along a teaser found on the manufacturer's weibo page
. Not only did it confirm that the name of the next model will be
OnePlus 5
as expected, it also revealed that the new handset will be launched during the summer. Remember, there will be no OnePlus 4 since the way that number is spoken
sounds too much like the pronunciation of the Chinese word for death
.
Keep in mind that
the 128GB model of the OnePlus 3T has been discontinued
and is no longer available. The 64GB OnePlus 3T in Gunmetal or Soft Gold will ship immediately for $439. You can opt for free standard shipping, and your phone will ship within 48 hours. Or, you can choose to go with priority shipping. Currently just $9.99, selecting this option means that your phone is sent out within 24 hours and is received in 1-3 days by air express.
Here's where the deal comes in. Enter the "FASTLIKEOP3T" coupon code and you'll pay just $6.99 for priority shipment. That's a savings of $3.00 or 30%. Hey, it might not sound like much, but $3.00 is $3.00 after all. Use the money you save to purchase a paid app for your new phone., Or, order three items from the McDonald's $1 menu.
If you're interested in the OnePlus 3T, now obviously in its last days, click on this
link
.
source:
@oneplus